Australian landlords have been warned to expect a fall in rents during 2016, as the effects of low wage growth, slow population growth and the construction boom are all felt.

According to the latest CoreLogic RP Data Rental Review report, Australia's combined capital city weekly rental rate was $485 in February after recording no growth over the previous 12 months.

In the 12 months to February 2015, rents across Australia grew by 1.7%.

"With construction activity set to peak over the next 24 months, and with many new properties still to settle, there is a real possibility that rental rates will fall over the coming months," CoreLogic RP Data research analyst Cameron Kusher said.

"Based on our expectations, landlords have little scope to lift rental rates while for renters, it potentially means more surety in securing accommodation and the potential to upgrade into a higher level of accommodation for a similar cost," Kusher said.

"The cause of this current slowdown in rental growth is falling wages, excess rental supply in certain areas and lower rates of population growth and population mobility impacting on demand for rental accommodation," he said.

House rents have already seen a decline, currently sitting 0.3% lower than they were 12 months ago, while unit rents are up 1.2%

While there was no movement nationally for rents over the 12 months to February, conditions across the individual markets were varied.

Melbourne has seen the strongest growth in the past year, with rents up 2.2%, while in Canberra and Sydney they have risen by 1.6% and 1.5% respectively.

On the other side of the coin, Perth and Darwin have both seen record falls, with rents declining 8.4% and 13.3% respectively.

Rents are also down in Adelaide over the year by 0.4% and in Brisbane by 0.7%.

Rents have remained unchanged in Hobart.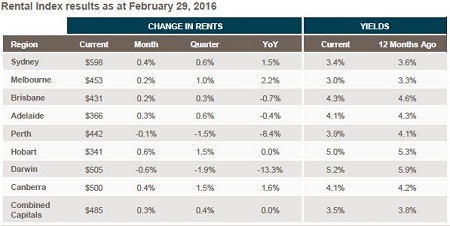 Source: CoreLogic RP Data
The stall in rental growth has also pushed yields down, gross rental yields were recorded at 3.4% for houses in February 2016 and at 4.3% for units, both of which are record lows.
Rental yields are lowest for houses in Melbourne (2.9%) and highest in Darwin (5.2%). Unit yields are lowest in Melbourne at 4.0% and highest in both Brisbane and Hobart at 5.3%.
Melbourne house yields are currently at record low levels while Melbourne unit yields are also at historic low levels