8/6/2017
By the time he's 35, Tim Lewinski expects to have $1m in equity, and a rental income to the tune of $1,500 per week. While these might seem like lofty numbers, Tasmanian-born Tim – who bought his first property at 19 – has been watching the growth of Hobart's economy, tourism and property.
"It's common knowledge that Hobart's past growth hasn't been as good as it is now," says Tim. "But now, everything is starting to pick up. People want to live here for the lifestyle, so the population is growing, and the economy is improving. All of that translates into the property sector."
Seven years into his investment journey, Tim is on track to meet his long-term goals. He already holds $250,000 net worth across his three current properties, which he's achieved in large part due to his strategy to renovate for equity, and supported by the rising property market.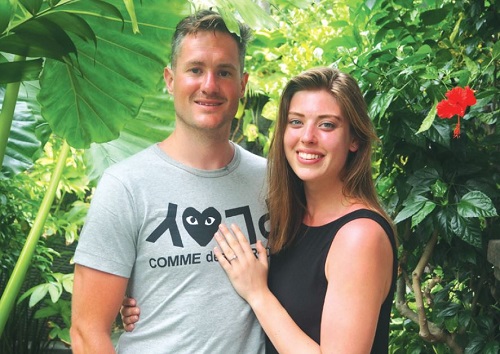 A family joint venture
Tim's first property investment was a two-bedroom unit in New Town, a suburb of Hobart, Tasmania. He diligently saved for a deposit while studying business at university and working part-time in a sports store. Determined to get an early start in property, he partnered with his father in the purchase in 2011, when he was 19.
"My father has always been into property and gave me an understanding of the old cliché, that money should work for me, not the other way around!" explains Tim.
"Hobart is no longer the sleepy city. I'm hoping to benefit from its new growth by taking calculated risks at a young age."
"I only just sold the unit at the end of 2016. New Town is about 5km from the city centre, so it was a safe way to dip my toes in the water."
While the unit only earned about $20,000 growth in six years, it did yield a 6% return – something Tim says is one of Hobart's many draw cards for investors.
Seeing value in vinyl
An intrinsic element of Tim's strategy is purchasing properties that need a little TLC – and Tim says Hobart has excellent 'renovator's delights' on offer. "There are several houses around the Hobart area that have ever only had one owner and just need a bit of sprucing up," he explains.
"Many buyers are a bit put off by the old carpet, paint and vinyl. It really surprises me that they don't see the potential or profit!"
In addition to the potential to add value, these homes are often available below market value. "These houses are extremely easy to add value to, and you don't have to be an expert renovator," says Tim.
"Depending on the area, you can find good renovation prospects in the $250,000–350,000 price bracket. Yields here are often around 5% or more, too."

Growth through renovation
Tim's most successful property to date is a property in Moonah, 6km from Hobart city. His low-ball offer on the rundown house was accepted, and he was able to add substantial value through renovation. He and his fiancée funded the $205,000 for the deceased estate – $25,000 less than the listed price – using both their savings and the state government First Home Owner Grant of $7,000.
Over the next three years, Tim spent $25,000 stripping back and rebuilding the interior of the house. "It was in a pretty bad state, but it should have only taken one year to renovate, really," laughs Tim.
"We didn't have the finances to outsource the work, so my fiancée and I – with help from friends and family – did it all on the weekends whilst still working full-time." The renovation was more than cosmetic. It required a new kitchen, bathroom, electrical rewiring, plumbing, and full paint and plaster.
Ultimately, the lengthy process and late nights paid off for Tim. The property is now valued at $360,000, and, along with the rental income when he moved out, provided the leverage to fund his next two properties.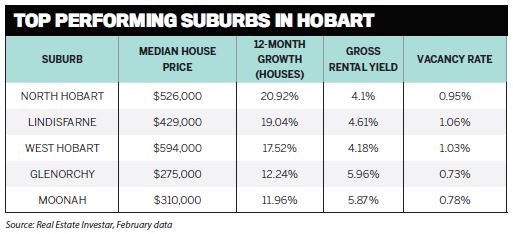 An aggressive strategy
Tim isn't holding back in his plans to grow his portfolio. His aggressive strategy involves purchasing six to seven more properties in the next four years. For now, he is on the hunt for Hobart properties with high yields, in order to strengthen his cash flow position.
"Typically, this type of property will experience lower growth, but I believe there are a number of suburbs and locations around Greater Hobart that can provide both yield and growth," says Tim. "And, I'll continue looking at manufacturing growth through undertaking renovations." Tim's current yield position is already healthy. His Moonah renovation earns an 8% return, while his two other investments, which he bought in 2016, yield over 6% each.
"The properties I plan to look for are three-bedroom dwellings on a reasonable bit of land, with a yield of 6% or greater," Tim explains. "I also look within 15km of the Hobart CBD – and believe me, most of them will get a yield like that."
Affordability drives demand
Affordability is definitely one of Hobart's biggest draw cards for buyers. The median house price in Hobart is the cheapest in the country at around $380,000, according to CoreLogic. Equal second are Darwin and Adelaide, coming in at just under $500,000.
Yet, Hobart price growth year-on-year is fourth on the leaderboard, beaten only by Sydney, Melbourne and Canberra – strong company for a state that most investors are wary to approach because of its subdued past performance.
And given the recent market improvements, high yields and affordable prices, it's no wonder that Tim only sees abundant opportunity in the Apple Isle. "The vacancy rate is incredible in Hobart, too," Tim adds. "I haven't had a vacancy in the last three years."
In fact, Hobart's vacancy rates are amongst the lowest in Australia. Tim believes many investors steer clear of Tasmania because they're unaware of its strengths. "I think to some degree investors ignore the positives and don't give it too much thought," says Tim.
"But historically, house prices have never gone down, proving it's a less volatile market. It's been flat for awhile, but things are definitely changing now."
While Tim says affordability is playing a part in driving prices up, he also believes that Hobart has enough infrastructure, lifestyle desirability and growing popularity to support its rising prices for the long term.

Tim plans to keep his property search close to home, and for his next purchase he will likely focus on Moonah and Glenorchy, where his current properties are located.
"I want to buy two more properties to add to my portfolio, and I'm already putting out offers," Tim says. "I'm planning to go full steam ahead with my strategy."

Tim's portfolio may not boast huge numbers, with his purchases to date averaging $250,000 per property. However, by comparison, for the same amount of investment, Tim would have been able to purchase just one property in Melbourne's middle ring, where rental yields average 2–3%.
Tim is satisfied with his diverse property portfolio, which includes suburbs that he carefully researched for growth potential. "Moonah was an industrial suburb, but now it's got cafés, shopping centres, and lots of young people moving in," Tim explains.
"It's the last suburb to take off, but sentiment is picking up. There's definitely good cash flow and good capital in this suburb."