New year, new markets. If the rolling by of one year to the next has shown investors anything it is that investment opportunities are continually changing. What made property buyers big money in 2013, won't necessarily be as fruitful in 2014.
With that in mind, Your Investment Property has released its Annual Suburbs Guide – an in depth ranking of the TOP 100 property markets for 2014.
These are markets forecast to outperform the rest of Australia for short-term capital growth, but also offer sustainable, long-term price growth for property investors. This distinguishes them from so-called 'hotspots'.
Chosen from the more than 15,000 suburbs in Australia, the Your Investment Property TOP 100 is the pre-eminent guide to property investment markets in Australia.
Available in Your Investment Property's January issue, the TOP 100 data is the result of months of research and data collation. Your Investment Property consulted a range of property analysts, real estate agents, economists, statisticians and experts in the property industry to draw a picture of where Australia's best property markets are going to be.
Each focus suburb contains all the important facts investors need to know and understand about the local housing market and why it offers a prosperous investment opportunity. We've looked at the streets and property types that attract the most value, how public infrastructure is improving, how local residents view the suburb and the demographic shifts that are driving demand for property.
Some results may surprise investors. Some may not. The TOP 100 issue is on newsagent shelves NOW.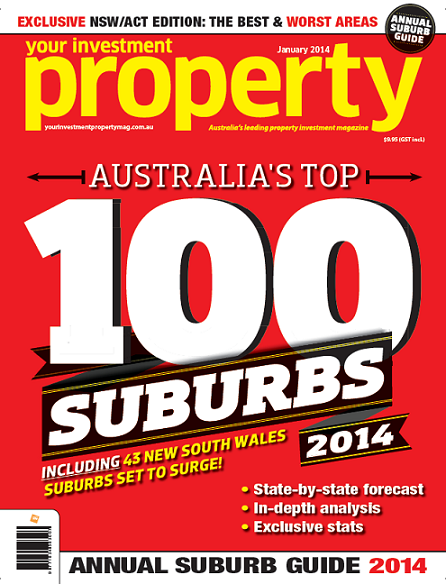 Want to highlight a TOP 100 Suburb on your website or property marketing?