New research has reinforced that Sydney is still the golden child of the Australian real estate market.

Figures released by onthehouse.com.au show that in the 12 months to 30 June 2015, Sydney's median house price grew by 20.36%, more than double the level of growth seen in any other capital city over that period.

That level of growth is also the highest annual level seen in Sydney during the current price boom and its median house price is now $993,500.

The next best performing capital city was Melbourne with an 8.11% increase in its median house price over the period, followed by Hobart with just 4.73%.

On the other end of the scale Perth and Darwin were the worst performing capital cities, recording decreases in their median house values of 1.05% and 0.73% respectively.

The national average for the period was growth of 6.28%.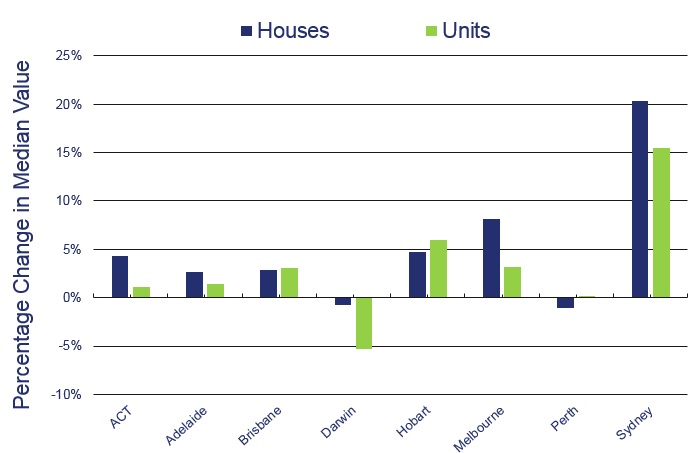 House and unit price growth from June 2014 - June 2015. Source: onthehouse.com.au
Onthehouse.com.au market analyst Eliza Owen said while the reason behind Perth and Darwin's decreases was easy to identify, determining why areas such as Sydney are booming is more difficult.
"The impact of iron ore exports on these property markets is clear from available trading data, and unless the resource businesses based in Perth and the Northern Territory can sustain low prices for exports, I doubt there will be an improvement in these markets over the next few months," Owen said.
"Unlike the resource states, it is harder to identify the source of change in the Sydney and Melbourne markets. There are plenty of anecdotal reports claiming that foreign investment and baby boomer investors are driving up values - and while these factors may or may not be the cause of the current boom - there is currently no data available to prove this is the case."
It's a similar story for the country's unit markets, with Sydney again experiencing capital growth in the 12 months to 30 June 2015 that more than doubles that of any other city.
Sydney's median unit price now sits at $656,000, an increase of 15.44% over the 12 months, while Hobart had the second highest level of growth at 5.93% and Melbourne third with 3.18%.
Darwin and Perth are again the worst performing capital city markets over the period, with Darwin's median unit price taking a 5.31% hit, while Perth saw a slight 0.16% increase.
Nationally, units experienced growth of 6.06% over the year.