The widening gap between dwelling prices in Australia's capital cities highlights why regulators should reconsider broad-based policy responses to the country's housing market.

Figure released this week by the Australian Bureau of Statistics show that over the year to June 2015, residential property prices in Sydney and Melbourne grew by 18.9% and 7.8% respectively, while Brisbane, Canberra, Adelaide and Hobart saw growth of between 2.9% - 1.5%.

Over the same 12-month period, prices in Darwin and Perth decreased by 1.2% and 1.8% respectively.

The figures mean that the average residential property price in Australian capital city now sits at $604,700.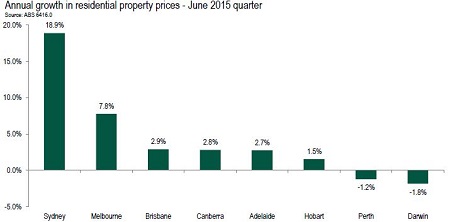 Source: HIA/ABS
"The wide divergence of dwelling price growth across the capitals is indicative of the mixed economic conditions across Australia. It highlights the challenges in prescribing 'one-size-fits-all' policy responses to the housing market," Housing Industry Association senior economist Shane Garrett said.
"Price pressures ultimately represent the inadequate response of supply to much stronger demand conditions. We need to see more flexibility in the planning process and in the release of new residential land in order to take the heat out of prices," he said.
The figures also support the opinion of Geoff Baldwin, chairman of Certified Practising Real Estate Agents, who believes the idea of a national real estate market in Australia is outdated.
"It is not since the recession of the late 1980s, early 1990s that we have seen all states reflecting similar results across the board," Baldwin said.
"During the recent booms of Sydney and Melbourne and all the hype that has gone with that, we have seen SA, WA and NT in decline and Queensland doing little more than holding its own," he said.
"Now as those booming states start to slow the overriding commentary is that "the" real estate market is cooling which is a lazy generalisation that should be examined carefully by property investors.
"While over time a national trend does exist, year by year each state and territory has shown to be a market in its own right and all indications are that this will continue."