Blocks of land in Australia cost almost 70% more in capital cities than compared to regional markets according to research from CoreLogic RP Data.

According to the research, at the end of 2015 the median price for a block of land in an Australian capital city was $265,000 compared to a median price of $156,000 in a regional market.

The $109,000 price difference means capital city blocks are 69.9% more expensive than regional blocks, which is the largest differential on record.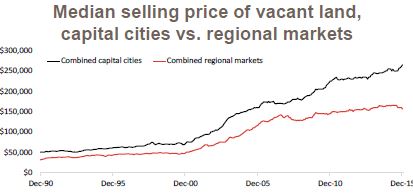 Source: CoreLogic RP Data
Cameron Kusher, research analyst at CoreLogic, said the price discrepancy between capital city and regional blocks of land is a contributing factor to why housing in capital city markets is so expensive.
"It also goes some way to explaining the differences in the cost of built form (houses or units) in the capital cities relative to non-capital city areas," Kusher said.
"Over the past year, capital city vacant land prices have increased by 4.0% compared to a -5.2% fall in prices in regional areas," he said.
While there are significantly cheaper, blocks of land in regional areas are also much larger than those found in city areas.
According to CoreLogic, the median size for a block of land in a regional market is 809 square metres, compared to 466 square metres for a block in a capital city.
Across the combined capital cities the median price per square metre for vacant land was recorded at $552 at the end of last year. At the same time the rate was a substantially lower $179 per square metre in regional markets.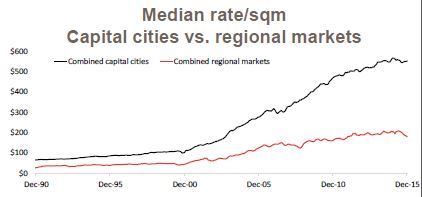 Source: CoreLogic RP Data
"To put this in perspective, median lot sizes have fallen at a rate of - 2.5% annually in capital cities over the past decade compared to falls of -0.5% per annum in regional markets," Kusher said.
"The fall in capital city [price] per square metre is due to the increase in land sizes while in regional markets it is due to both prices falling and land sizes increasing over the past year."
Wirth housing affordability currently under heavy scrutiny, Kusher said there could soon be an increased focus by policy makers on how to alleviate some of the burden created by land prices in capital cities.
"With housing affordability now back on the national political agenda it is likely we will see renewed focus on the high cost of developable land in our capital cities. Reforms to reduce the cost of the vacant land would go a long way to improving housing affordability, particularly for new homes," he said.
"Of course the other alternative is to encourage greater economic development of regional areas where the cost of housing is significantly lower than it is in the capital cities."