Property investors are starting to make their presence felt again in the real estate space, but they should try to tweak their strategies to make the most out of the current market conditions, experts say.
The latest figures from the Australian Bureau of Statistics (ABS) are showing a continued upwards movement in the share of investors.
From the recent trough of 22.89% in November 2020, property investors comprised 29.11% of the new housing loan commitments in May 2021.
REA Group senior economist Eleanor Creagh said the heightened activity from investors was apparent across all states, even in Victoria where investor lending slightly declined in recent months.
"The combination of low borrowing costs, ongoing capital growth and attractive rental yields is clearly enticing investors back to the market," Ms Creagh said.
Top spots for investors
Data from REA Group showed South East Queensland is currently the top spot for investors this year.
Greater Brisbane, Darwin, and regional Queensland have also shown strong year-on-year increases in investor enquiries on realestate.com.au.
"Looking specifically at enquiries for units, it seems investors have well and truly shaken off any reservations they may have had of a perceived oversupply in Brisbane," Ms Creagh said.
"When it comes to investors enquiring about houses, the growth has been in both Brisbane as well as coastal Queensland markets."
Logan-Beaudesert, Moreton Bay south, and Ipswich SA4 regions are the most popular among investors.
Darwin and regional South Australia are also getting a lot of traction among up-and-coming investors.
Surprisingly, enquiries in Melbourne's market are also on the rise.
It appears the relative affordability and the tight rental markets in these areas are encouraging investors to explore opportunities in these markets.
Investors are also considering where future buyers and tenants would want to live.
Ms Creagh said the exodus of people from the biggest markets in New South Wales and Victoria are likely to benefit smaller states like Queensland.
"Many people have not only chosen to escape lockdowns but also seek relative affordability in Queensland," she said.
"More sun, less traffic and the potential to upsize have all been cited as drivers of northbound flows."
How much investors are willing to spend
In terms of median prices, the sweet spot for investors rests at $650,000 for houses and $495,000 for units.
These average median prices have been steadily increasing since 2019.
Since the beginning of the pandemic, the Northern Territory witnessed the biggest jump in investor price point.
"Not surprisingly, new investor lending in NT has more than doubled, with investors responding to both high rental yields and price growth," Ms Creagh said.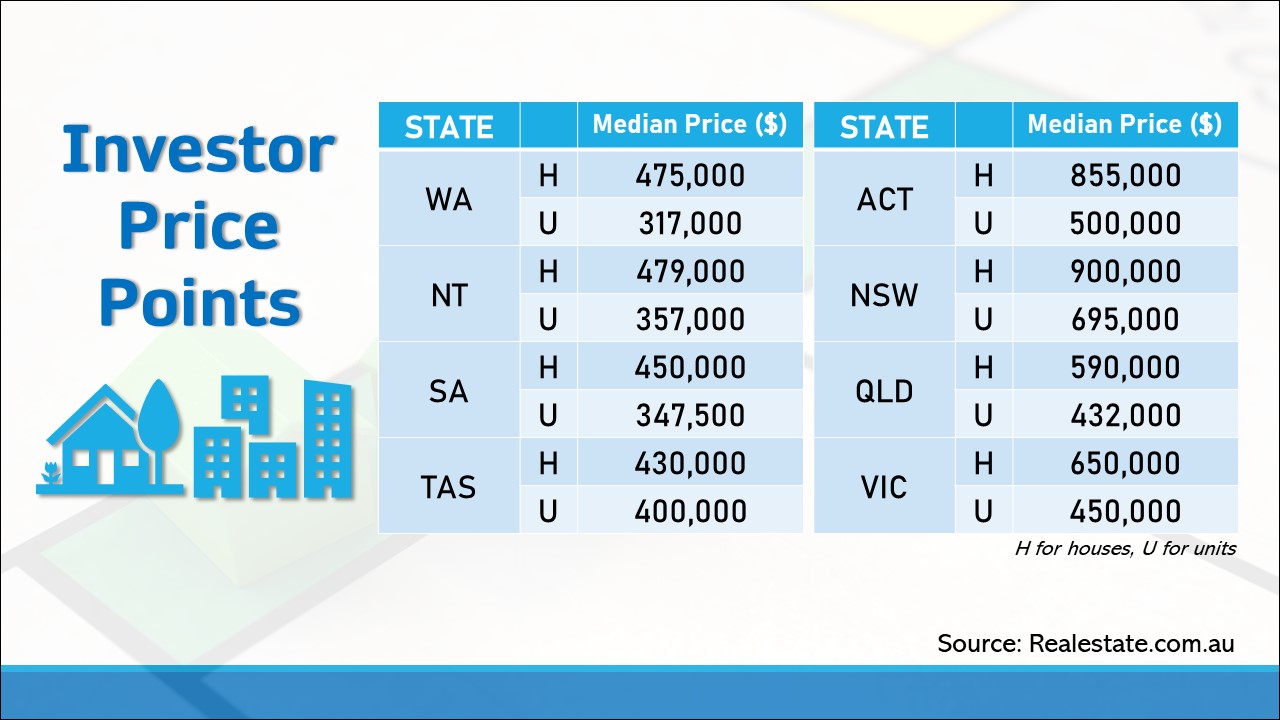 Factors investors should keep their mind on
Metropole Properties Brisbane director Brett Warren said investors often overlook some of the most basic fundamentals when they try to break into the property investment scene.
"Interestingly, it is the exact same fundamentals that most investors would look for when they buy a home, but when they invest somehow, they do things differently," Mr Warren said.
"If they had taken a similar approach to the way they bought their home, they would likely be in a better position financially and would likely have accumulated more property and therefore more wealth."
1. Getting the right location
Mr Warren said getting the location right is crucial as it will do 80% of the heavy lifting when investing in property.
"I always advocate buying in locations where demand substantially outweighs supply," he said.
"That is why we favour the inner to middle ring suburbs of Sydney, Melbourne and Brisbane."
However, it is as equally as important to look at property type. In recent times, these inner-city locations are on an oversupply of apartments.
2. Understanding the land to asset ratio
When investing in landed properties, Mr Warren said it is vital to always consider the value of the land.
A basic rule of thumb to follow is to make sure that the value of land accounts for more than 50% of the purchase price of the property.
"If it were a house and land package in an outer suburb, quite often you will find the house value outweighs the land value, which means the biggest part of your asset is depreciating or losing value," Mr Warren said.
The same principle can be applied when investing in units.
"You can imagine that a boutique complex of six or 12 apartments will have a greater land value attributable to each unit than a complex of 300," he said.
3. Looking for the "icing" to the investing cake
While 80% of the success of an investment property relies on location, Mr Warren said it is still necessary to consider the remaining 20% that would serve as an "icing".
This "icing" comprises of the different institutions and points of interest near the property, such as schools, hospitals, and lifestyle precincts. Public transport, amenities, and infrastructure are also included in this.
"As an investor, act as a home buyer and do not break the rules," he said.
"I often hear investors say that 'I am investing in a suburb because there is a new university, train line, or hospital' – these things are once-off. While it may have one or two other ingredients, it does not encompass the vast majority."
4. Have a list of deal-breakers
Another factor investors overlook is determining what they do not want in a property.
Mr Warren said homebuyers often have a list of things they do not want their future home to have.
"You want to have as many people wanting to buy or rent your property as possible, this is another way of saying high demand," he said.
"If you start buying on main roads or flooded areas, you will rule out many buyers or tenants and will not get the above-average rates of return to build your wealth faster."