Don't Kick Yourself in Two Years! The time is NOW! Read our 2012 National Market Insights.
Rates are dropping, and as the Macquarie Bank saying goes, "When interest rates are at parity to that of a rental return, the masses buy real estate."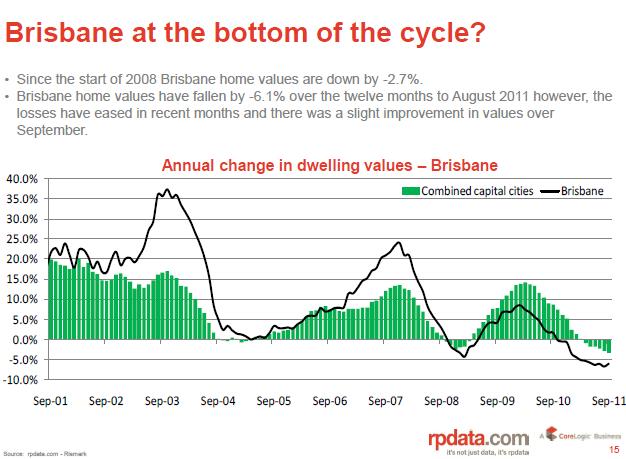 Brisbane
The Brisbane market has declined in value, and it has found its floor and it will recover. I'm always a great believer of getting into a market at the start of recovery, or just at the tail end of the bottom of the market - as you are getting in for an absolute bargain!
The economic data is proving that Brisbane now is the city of choice. We don't like the outer suburbs of Brisbane, where essentially the wage growth is less impressive than the inner suburbs of Brisbane.
The inner suburbs of Brisbane is where we see people who work generally in the office precinct; in particular a lot of the mining companies, so Brisbane is ready to recover. Over the last quarter it has made the most changes for the positive, and Brisbane and Perth are now moving up the ranks, when it comes to finding certainty and certain growth.
We are bringing some sensational property investments to the table to our clients at Positive Real Estate. We like the lower end of the market - we like that 300,000 to 350,000 dollar range, as that's where we feel most comfortable, and that's where time in and time out it's been proven that the market endures fewer fluctuations.
Peter Hyland, who is a board member of Public Council of Australia – put together a report that stated essentially 2012 will be the start of recovery for Brisbane. Foresight is the key to fortune! Leading experts RP Data & URBIS agree that NOW is the time to buy in Brisbane. I believe there are strategic locations to buy into NOW before it BOOMS!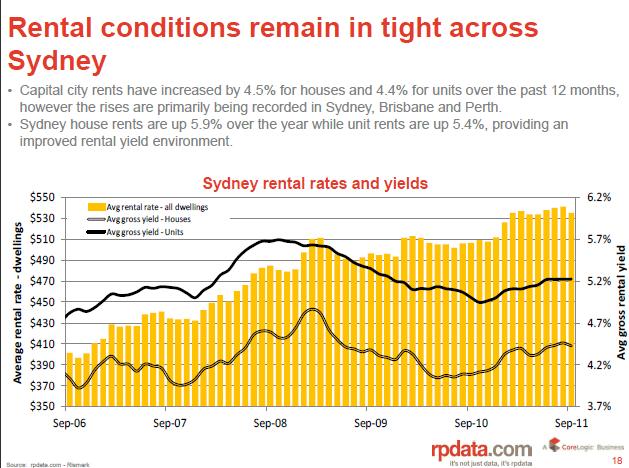 Sydney
Sydney rental conditions are remaining extremely tight; in fact
if you hone in on Western Sydney you don't really find stock without a 6% return if not more! Once we see those interest rates come down, we're going to see some exciting things happen in Western Sydney. In Western Sydney, the average rental return is around 6%, and as interest rates head to 6%, the phrase will be coined, "It's cheaper to own a piece of real estate, than it is to rent". We're going to see this phenomenon hit the Western Sydney marketplace. For me it's a telltale sign, that whenever a parity situation occurs, the masses buy real estate.
There is no greater populace place in Australia than Western Sydney. In fact, most people come to Sydney and think of the lovely beaches and harbour, which is only home to around 600,000.
Outside of that 10km zone you'll find 4.5 million people, and they live in Western Sydney. When they're given the opportunity to invest in the marketplace at the same rate they rent, they will take it, and this is where we'll see the final surge of the Sydney marketplace.
I believe the best buying in Sydney right now is short off-the-plan, or existing properties with brilliant rent returns, but not necessarily long off-the-plan properties, because we're going to see a surge which will see the Sydney market taper off. I would imagine by midway 2013 we won't be transacting in Sydney, as the final growth will have hit the marketplace, with the market potentially having a 20% year (will you be kicking yourself in 2 years wishing you had bought in this market?)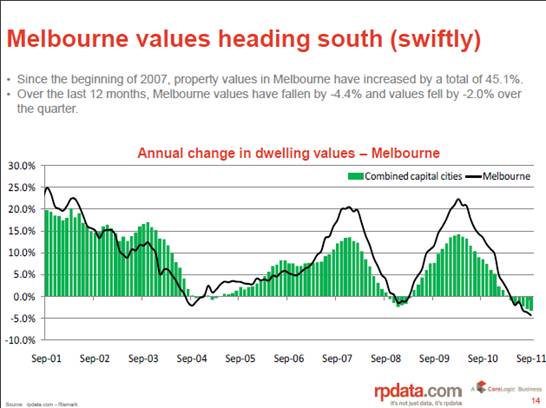 Melbourne
Melbourne has peaked. Melbourne, Adelaide, Darwin, Canberra, Hobart all have declining rents. When we choose a place to invest, we want rising rents, we want low unemployment, we want a growing population, and we want limited, or challenged supply and demand issues; because a growing rent issue is always relative to supply and demand.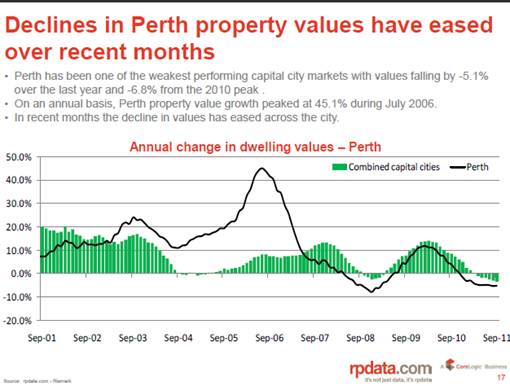 Perth
Perth is not yet at the bottom, but it's certainly showing signs it's headed in that direction. I would imagine it's a market certainly worth watching over the next 24 months; if you're like me, and you like getting in markets really early, it's probably not really a bad time to get in. You're not going to be at the bottom, you're not going to be able to necessarily recycle that equity out of the property dramatically fast, but you wouldn't be doing yourself a disservice. The issue I have with Perth right now is certainly entry level. Costs can be quite high compared to that of Brisbane – the entry level is at $400,000 whereas Brisbane entry levels can be at $300,000 to $350,000 in a good inner city suburb.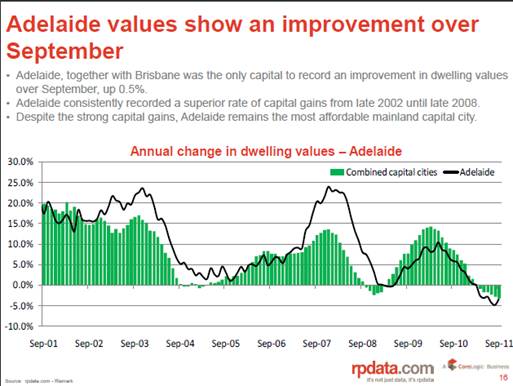 Adelaide
If we zone in on Adelaide – it's a little better, it keeps plodding along and doesn't have the market fluctuations that other markets have in Australia. I still believe in the Adelaide markets, especially if you start at $250,000 it's a great market to find yourself a little property which you can get control of - even sub $200,000 there's some great bargains to be had, and it's certainly got some great signs of future prosperity, with some of the mining activities down there. For me, it's almost like a secondary market rather than a primary market.
Click here for Part 3 of The Hottest Markets of 2012 Report including Regional Boom Towns
Click here for Part 1 of The Hottest Markets of 2012 Report for tips on where to invest in 2012
Click here for Part 2 of The Hottest Markets of 2012 Report including Market Insights for Brisbane, Sydney, Melbourne, Perth and Adelaide!
Sam Saggers is CEO of Positive Real Estate and Head of the buyers agency which annually negotiates $250 million-plus in property. Sam's advice is sought-after by thousands of investors including many on BRW's Rich 200 list. Additionally Sam is a published author and has completed over 2000 property deals in the past 15 years plus helped mentor over 2200 Australian investors to real estate success!

Get more from Sam Saggers, register for a FREE property investor night

– click here
To read more Expert Advice articles by Sam Click Here
Disclaimer: while due care is taken, the viewpoints expressed by contributors do not necessarily reflect the opinions of Your Investment Property.