When searching for a great investment property deal, don't bypass any "diamonds in the rough" you might encounter along the way. Yes, there are a lot of money pits out there - and I've no doubt you've likely heard your share of investment property renovation story nightmares - maybe even experienced a few of them yourself.
Despite the obvious pitfalls, it's very possible to achieve some fantastic returns on the right property investments, if you've got some sensible guidelines to follow.
I'm not keen on massive real estate investment renovations, they can really devour your profits. Rule of thumb - if the property manager, project manager or you are unable to coordinate the renovation in 3 months time, you run the risk of over-capitalising. Not good.
Remember – the best renovation projects are those which can be handled quickly or remotely. For instance Positive Real Estate clients Julie and Dan Adams recently took the necessary steps and followed advice and guidance, that made them almost $60K in just 42 days. Renovating is something we help our clients with time and time again….it's simple, it's talked about all the time and it can make you some serious money….if you follow investment property advice and execute it the right way!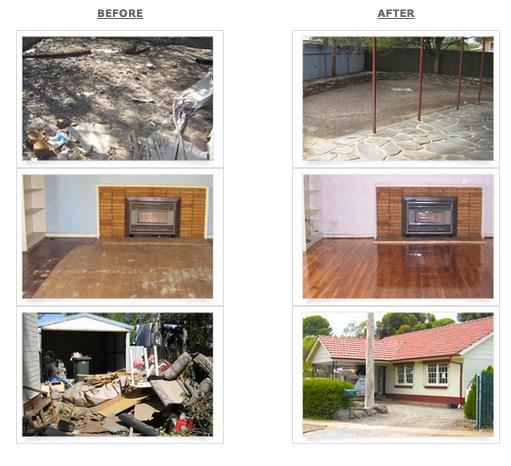 Use the following checklist when searching for your next renovation investment property:
Do your due diligence. Be aware of the cycle the market is in - will there be growth? Remember - and consider -the six market drivers; infrastructure, yield variation, supply and demand, population, economics and demographics
Make money going in - buy at a discount
Choose investment property in a high rental demand suburb or town, where rents can increase
Crunch the numbers - be certain that for every dollar you spend, you get a return of three
Understand the principle of cash-on-cash and calculate the expected return on your deposit
Top 10 renovation ideas
Replace front door and make sure the new door has a warm paint colour.
Basic landscaping – don't overcapitalize here however low maintenance plants and easy care gardens and some new grass can do wonders.
Replace carpet with polished timber floors.
Paint all internal walls and include a feature wall – paint light colours for airy, bright and spacious allure.
Resurface the kitchen cupboards with or replace bench tops and handles.
Build a deck for an external living area.
Add another wall to divide living spaces and make another bedroom.
Make windows into external doors that create a flowing, open and seamless space that connect to outdoor areas.
Make the laundry into a bathroom, and a linen cupboard into a laundry.
Enclose the carport and see if the garage can become a living area.
If you've enjoyed the property renovation tips I've listed to help you to add more value to your investment property portfolio, or you have some more that you think should be added, why not take a quick minute and share them in the comments below - we'd love to hear from you!
Sam Saggers is CEO of Positive Real Estate and Head of the buyers agency which annually negotiates $250 million-plus in property. Sam's advice is sought-after by thousands of investors including many on BRW's Rich 200 list. Additionally Sam is a published author and has completed over 2000 property deals in the past 15 years plus helped mentor over 2200 Australian investors to real estate success!

Get more from Sam Saggers, register for a FREE property investor night

– click here
To read more Expert Advice articles by Sam Click Here
Disclaimer: while due care is taken, the viewpoints expressed by contributors do not necessarily reflect the opinions of Your Investment Property.