Dean Zarif has a passion for transforming old and dated houses into modern and luxurious gems – a passion that led him to establish his own home-renovation business specialising in high-end bathroom and kitchen renovations.
But there is another driving force behind Soho Bathrooms, which the Sydney-based renovator set up earlier this year.
"There are a few companies out there doing some phenomenal work, but far too many charging too much for sub-standard work," Dean says.
He shares the story of family and friends who paid a lot of money for supposedly luxury renovations but were left disappointed because of the quality of work.
"So, I set out with a business plan to fill this gap in the market where my core value is that I put building an outstanding and luxurious bathroom, kitchen, or home before profits," he says. "I often purchase additional unbudgeted items or complete additional work without charging my clients a variation if I feel that it will enhance the overall look and feel of the renovation."
Dean says luxurious renovations don't always have to be expensive. "If done right and on budget, [these types of renovations] can add significant value to your home," he says.
"Like living in a resort"
Dean says what draws him most to luxury renovations is the sense of fulfillment that comes from seeing the gratified look on his clients' faces.
"The biggest benefit and the one thing I hear from my clients consistently after each high-end renovation I complete is that they feel like they are living in a resort," he says. "Whilst having a newly renovated bathroom or kitchen is always exciting, having a luxurious renovation yields a completely different feeling."
One of his recently completed projects is a bathroom reno in a Miranda property, which required a full strip-out.
"The bathroom was quite tired and dated when I started and was begging to be stripped back and rebuilt from scratch," he says. "It was far too small and cramped for a modern family. I had to increase the size of the bathroom to be able to deliver a spacious Hamptons/Old English-style renovation."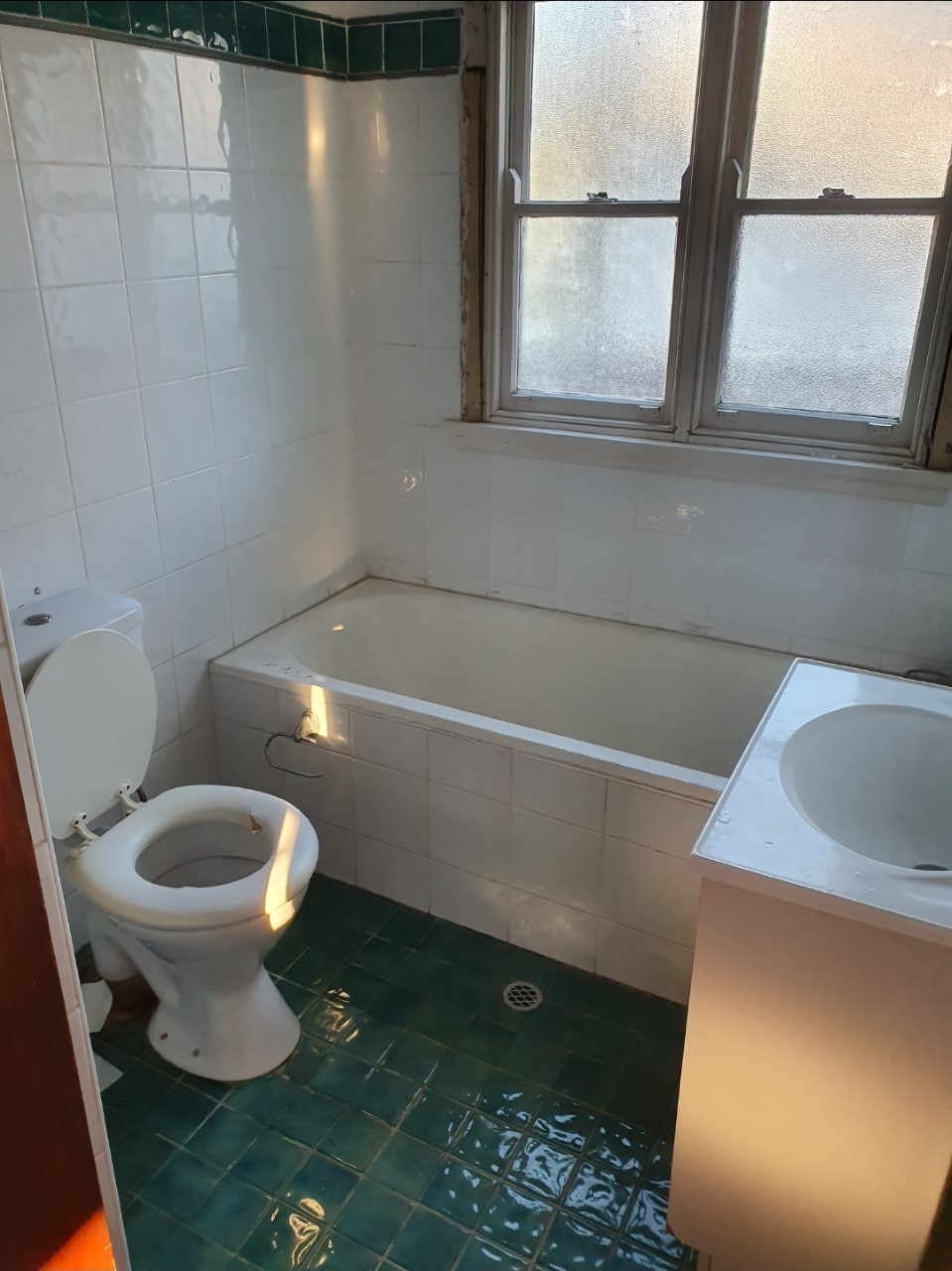 Miranda bathroom before renovation
But creating more space is just the beginning. To achieve this look, Dean did an extensive amount of work.
He stripped the bathroom back to its timbre frame and relocated a bedroom door adjacent to the bathroom entrance so this could be moved back by about a metre. He also removed a linen cupboard, adding a crucial 350mm to length of the room, and removed the old concrete floor base, which sat on a corrugated iron sheeting.
Dean then replaced the old steel and clay drainage with brand new PVC pipes to suit the extended layout. He installed a new double hung aluminium window with colonial bars. Niches were also built for the bath, shower, and shaving cabinet.
As for modern conveniences, a rewire was needed to accommodate the three vertical heated tower rails, LED light under the shaving cabinet niche, hidden power point in the vanity drawer, LED downlight, and the four-in-one heater, and light and fan combo.
After waterproofing and tiling, Dean fitted out the bathroom with a claw foot bath, and shaker-style wall hung vanity with marble benchtop and bowl. The porcelain-handled tapware put the icing on the cake, he says.
The result is, in Dean's words, "a stunning new bathroom that the owners are absolutely ecstatic about."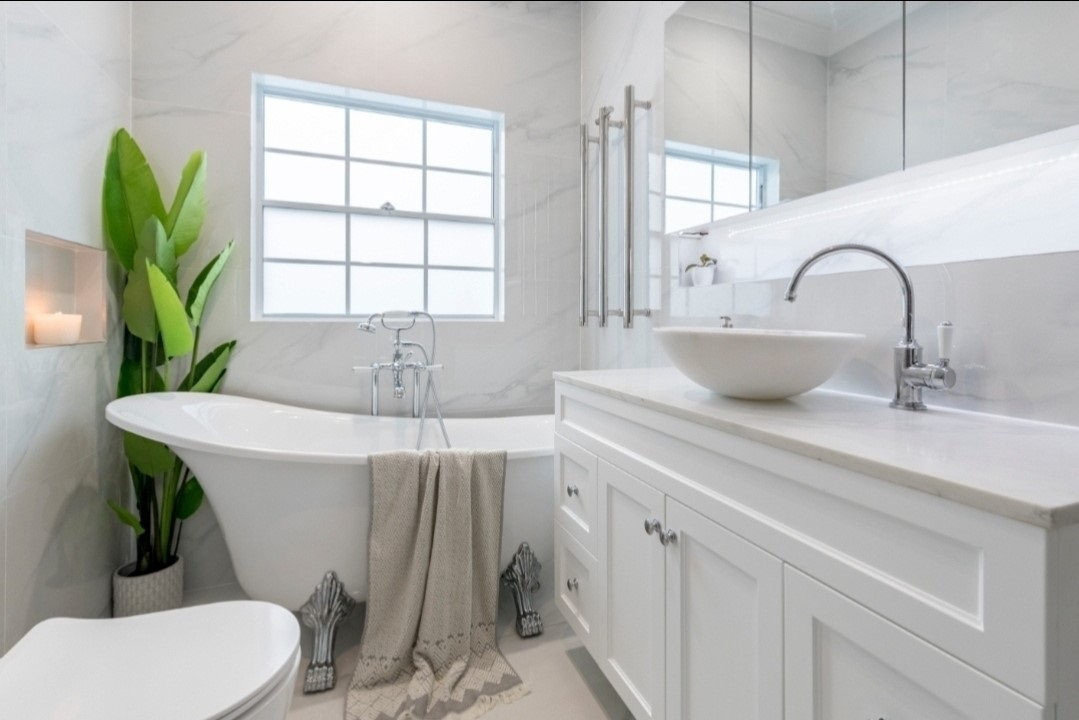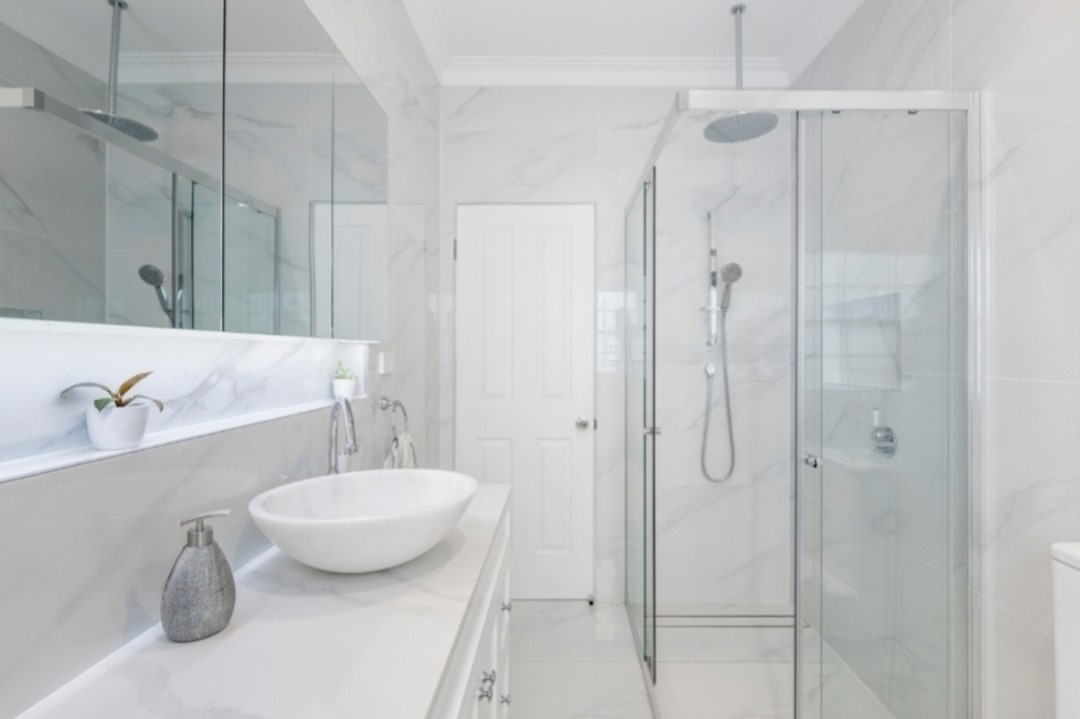 Miranda bathroom after renovation
The full renovation cost $40,000 and took about three weeks to finish.
When asked how much value his renovations added to the property, Dean says his aim is always to add $3 for every $1 spent on renovations.
For the Miranda property, he says the owners were so satisfied with his work that they asked him to also renovate the kitchen and do a full repaint of the property. Once complete, Dean expects the changes to raise the property's value to about $5 for every dollar spent on renovations.
Other projects
Dean doesn't focus on a single area when it comes to doing projects and has completed several high-end renovations across Sydney.
Among his current projects is a waterfront property in Padstow Heights, where he stripped out two bathrooms, a laundry room, and a toilet. He says he is also doing major changes in the layout by installing additional fixtures to the ensuite. This project is due for completion in two weeks.
Dean is also renovating a kitchen in a property in Western Sydney, where he pulled out the 40-year-old floor tiles and cement screed covering the original timber flooring. This project is due for completion in 10 days.
Dean's top five tips for budding renovators
1. Plan absolutely everything
"Have a detailed scale floor plan before you start. This ensures that everything will fit and that your trades know exactly what goes where before you start."
2. Purchase everything before you start
"Having all your fixtures, fittings, and tiles on site before you start ensures that there will not be any delays caused by having items out of stock when you need them. Also, online spec sheets are occasionally incorrect, so having a bathtub on site, for example, allows you to measure the exact height and build your niches accordingly. Shower rails have water inlets at different heights, and some require your water outlet to be lower than the standard 1,800mm. Getting this wrong could result in your shower head sitting too high or too low."
3. Have a written scope of works for each trade and have them sign this before they start
"This ensures that there are no misunderstandings on who is doing what and you know exactly what is and isn't included in their quote. Also, list your expectations. This may include sending you a text or calling you if they are running late or can't make it. If you're not living on site, then one of your expectations may be that each trade send you a text at the end of each day with a photo and details of work completed as well as their start time and plan for the following day."
4. Don't use the cheapest trades
"The poor man pays twice, as they say. There is no point buying nice fixtures, fittings, and tiles if they are not going to be installed correctly or get damaged during installation. I'm not saying to not shop around for good prices, but I would highly recommend asking for a couple of references and asking them to see some of their previous work. Tiling can make or break your bathroom renovation, for example, so engaging with an experienced tiler with a consistent record of delivering excellent work is crucial."
5. Inspect what you expect
"Even if you are a novice, I would highly recommend inspecting each trades work as soon as they finish. If you are unsure of what exactly to look for, then let your trades know before they start that you have a policy where you will pay invoices three days after their work is completed. This allows the next trade to come in and begin work and any issues or problems with the previous trades work can be identified. It is often quite difficult to get rectification work once a trade has been paid, but they are likely to be eager to fix any issues if they have not been paid yet."