The adoption of property management apps has been gaining traction in recent years – two experts explain why.
The world is in the midst of digital transformation, and the best way for most industries to progress is to embrace innovation. The real estate space is no different, and recent technological advancements have led to some profound changes for the sector.
The rise of property management apps
"Historically self-management has been something that property owners tend to shy away from," says Aron Akca, co-founder and director of sales and marketing at property management platform Instarent. "They've often found it difficult to collect rent, organise tradies in a timely manner, and deal with the advertising for new tenants when leases are up. But the availability of online rent collection and property management apps is changing all that."
Akca says about a third of all properties in the Australian real estate market are currently self-managed. The figure is equivalent to more than 1.2 million properties.
"We can only expect to see that figure grow as more landlords take matters into their own hands," he says.
The use of property management apps – apps designed to help investors and property owners manage all aspects of their residential and commercial properties – has gained significant traction in recent years, but Instarent co-founder and chief executive officer AJ Chand says the coronavirus pandemic really highlighted the need for these apps.
"During the first COVID-19 lockdown in Australia, we identified a significant increase in landlords looking for alternative options to manage their properties, outside of the traditional 'real estate agency' method," he says. "In fact, Instarent saw a 400% increase in users during March and April 2020."
Chand says the growth stems from landlords' "urgent need" to reduce overhead costs and boost their cash flow, adding that landlords "were also hoping to ensure vacancy rates were lowered by utilising additional services outside of the traditional leasing options."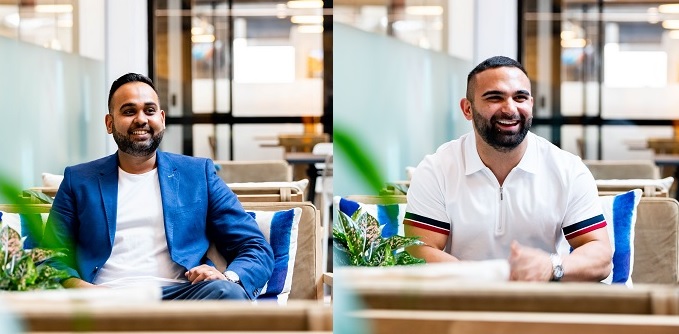 Instarent co-founders AJ Chand and Aron Akca
Benefits of using property management apps
Chand says that property management software designed for short-term or vacation rentals dominated the market until recently, when the outbreak restricted people's ability to travel. This is when the popularity long-term rental property apps began to rise.
"Long-term rental apps were designed to give users the option to manage property for longer periods without sacrificing the benefits of apps and technology," he says. "These apps not only manage the simple task of transferring rent directly from tenant to landlord. But they also offer sophisticated features that take on the traditional roles of a property manager."
Both Chand and Akca say using property management software comes with several benefits. These include:
1. Reduced cost
Akca says using self-management apps bring "tremendous benefits from a cost-savings perspective," and cites listing properties online as one of the biggest expenses landlords could cut.
"Listing a rental for the first time can cost up to $828.45 following traditional methods," he says. "And with a property manager, landlords can easily spend thousands of dollars upfront for advertising, with no guarantee of a lead. On the other hand, DIY online methods come in at $0 upfront to have the property listed online."
2. End-to-end management
Managing property involves an extensive list of tasks, including attracting and screening tenants, arranging the rental contract, managing financial transactions, organising repairs, and responding to requests from tenants. These responsibilities could be overwhelming, especially for owners who are self-managing their properties for the first time.
"Instarent addresses all these by bringing an end-to end management solution to property investors," Chand says. "Landlords can list properties and find tenants, create online applications, and vet tenants. There's also payment automation for rent collection, the ability to log and track repairs and hold inspections in real time."
3. Seamless communication
Akca says another advantage of using property management apps is that it also allows for seamless communication between the landlord and tenant, which could lead to a stronger and more transparent relationship.
"Prime Minister Scott Morrison famously announced that landlords and tenants needed to work together to come to mutual agreements that benefit everyone," he says. "Shortly afterwards success stories featuring both happy tenants and happy landlords appeared. The one thing they all had in common – good rapport."
"Great rental apps give landlords and tenants great communication and, because of that, the opportunity for good rapport," he says.
4. Automation
Using property management software increases efficiency by simplifying tedious administrative tasks, Chand says.
"Property managers need to rely on automation now more than ever, enabling a connected app to handle the majority of the processes, including scheduling, communications, user input, and real time data to property investors," he says. "Apps can digitise and automate this traditional paper driven environment by connecting users, real time reporting, and a better understanding of the managers portfolio, allowing the property manager to focus on growth instead of admin."
5. Online payments
Akca says the "savviest function" of long-term property management apps is the automatic weekly direct debit or credit card payments.
"Landlords can set this feature up themselves without an agent, whether it's through a mainstream bank or an online app," he says. "Some apps even send reminders on the landlord's behalf if the rental payment is late."
The future of property management apps in Australia's real estate market
Akca sees a future where the adoption of property management apps is more prevalent.
"I personally think everyone will eventually be renting through apps," he says. "Both real estate firms and self-management will be heavily dependent on this technology. Property managers could scale their portfolios using automation while private landlords would use it for savings and assistance."
However, Chand says there will be challenges ahead.
"Like all technology, apps go through updates, learn from its users and evolves to better the user experience," he says. "The challenge is to encourage property investors to look at alternatives, especially technology, as the perception that this is how it has always been done needs to change."