The investment outlook for the Australian property market should remain mostly positive in 2016, despite talk of busts and bubbles.

According to the latest ANZ Property Council Survey, the national confidence index for Australian real estate remained at 131 at the end of the March quarter, which indicates a positive outlook for the market.

The index has now remained unchanged for 12 months and Property Council of Australia of chief executive Ken Morrison said that shows any talk of a collapse in the property market is unfounded.

"In recent times there has been some media commentary about 'property bubbles', but the data does not support these claims. [The] Property industry is neither going through boom nor bust – instead, it is steadily meeting the continued strong demand for housing in Australia," Morrison said.

"We are seeing confidence underpinned by the continued strong economic performance of our largest states – NSW and Victoria. This is a positive and steady outlook – that reflects the steadiness of the economy. Australia is witnessing steady employment growth, low and stable interest rates, stable rents and house prices," he said.

According to the survey, house price growth will be stronger in the June quarter compared to the three months to March, however Morrison said there are some challenges for the market in the immediate future.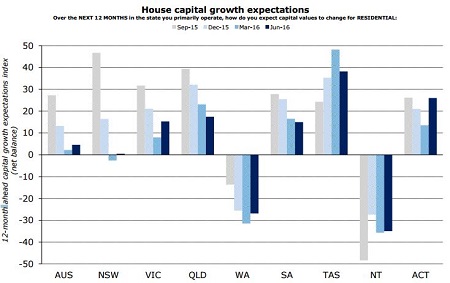 Source: PCA/ANZ
"Consumers and businesses have a tendency to see elections as uncertainty and often postpone decisions until after they are held. We are heading into the longest campaign in Australia's history and this will test sentiment," he said.
Weak wage growth is also pulling on consumer sentiment according to Morrison.
Richard Yetsenga, ANZ acting chief economist, agreed that wage growth is a serious issue for the property sector; however it will likely continue to be an important economical pillar in 2016.
"Slower housing market, weak wages growth and tentative consumer confidence all remain key challenges to both housing construction and household spending," Dr Yetsenga said.
"Importantly, the ANZ-Property Council Survey indicates a steady year-ahead pipeline of work in the property sector, which is 'doing its bit' to offset an otherwise subdued business activity outlook," he said.
Another issue the market will likely face is the ongoing impact of changes to lending practices, with the survey predicting further tightening of lending criteria for those looking for a mortgage.
The survey also predicts the involvemnt of foerign investors in the Australian property market is set to decline.