While Sydney has gained much of the attention as the nation's standout property market in recent years, new research from CoreLogic RP Data has revealed there has been a stronger performer over the past decade.

In the 10-year period to January 2016, dwelling values in Sydney have increased by a healthy 78%, but that pales in comparison to the path values have taken in Melbourne over the past decade.

The Victorian capital is the only Australian capital city where values have doubled in the period, posting a 100.9% increase in values over the decade.

Following Melbourne and Sydney, Darwin has been the best performer in the past decade, with values up 75.3%, followed by Canberra's 48.1%.

Hobart has been the worst performer over the decade, with only a 17.81% increase in values over the decade.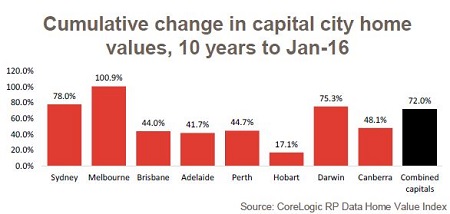 While the last decade has been a strong one for markets across the county, the previous 10 years saw even stronger capital gains for real estate.
"If we look at the split between houses and units, house values are 73.1% higher compared to a 64.3% increase in unit values [over the decade," CoreLogic RP Data research analyst Cameron Kusher said.
"Although combined capital city home values haven't doubled over the past decade, the previous decade was quite a different story. Between January 1996 and January 2006 combined capital city home values increased by 151.7% with house values up 159.6% and unit values 110.1% higher. Based on this data, the most recent decade of capital city home value growth has been half that of the previous decade," Kusher said.
In the decade to January 2006, values increased by more than 100% in each capital city, though data for Darwin over that time period is unavailable.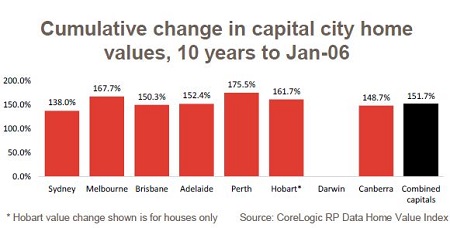 While the decade to January 2006 saw double in all capital cities, Kusher suggests it's unlikely that will be seen again.
"It looks unlikely that by the time January 2021 rolls around that home values would have doubled over the decade in any of the capital cities. Over the past five years, Sydney and Melbourne are the only capital cities in which home values have increased by more than 10% with values lower in Hobart and Darwin," he said.
"While there was a time when home values doubled over a 10 year period the data suggests that the days of such rapid value rises are behind us. It's important to remember that in recent times we have had record low mortgage rates yet that has failed to spark any substantial home value growth outside of Sydney and Melbourne.
"With little wage growth and ongoing economic uncertainty it is clear that in most areas of the country there are limits to what people can pay for housing."