Auction volumes are set to increase slightly in the week of 8 December, 2016, according to the latest CoreLogic Auction Market Preview.

A total of 3,232 capital city auctions are currently being tracked by CoreLogic this week compared to 3,207 auctions last week.

Auction volumes are set to rise this week in Melbourne, with 1,561 auctions scheduled in Melbourne. Slightly fewer auctions are scheduled across Sydney this week, with 1,126 homes set to be taken to auction.

Outside of Sydney and Melbourne, each of the remaining capital cities is set to see a lower number of auctions this week compared to last week. Brisbane has 190 auctions scheduled for this week, Adelaide has 150, Perth has 72, and Canberra has 110.

"Glen Waverley in Melbourne is the busiest individual suburb for auctions across the nation this week, with 24 residential homes set to go under the hammer. Followed by Reservoir (23), St Kilda (21), Richmond (20) and Hawthorn (19), all of which are in Victoria," notes the CoreLogic report.

Summary of last week's results

Capital city auction clearance rates remained strong last week, with final results indicating that 72.3% of auctions were successful. However, the number of properties taken to auction last week declined across the capital cities, with 3,207 auctions held, down from 3,398 the previous week.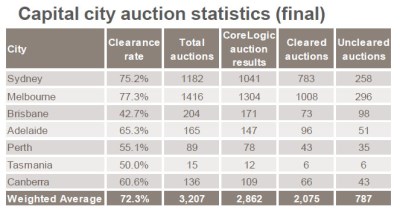 "Last week saw Melbourne's final clearance rate increase to 77.3 per cent, from 76.1 per cent the previous week, while for Sydney, final results show that the clearance rate for the city fell from 77.1 per cent the previous week to 75.2 per cent last week. Auction numbers decreased over the week in both Melbourne and Sydney, down to 1,416 and 1,182 from the previous week's 1,616 and 1,262 respectively."
Related stories:
Two Thirds Of Aussies Want To Buy Investment Properties In Capital Cities
Capital City Dwelling Values Rose Slightly In November