As the level of capital growth experienced across Australia cools, figures have shown that Melbourne was the nation's best performing capital city during the three months to the end of October.

According to the October CoreLogic RP Data Home Value Index, released yesterday, dwelling values across the capital cities were 0.2% higher over October, 1.4% over the quarter, and 10.1% higher over the year.

The index shows the annual rate of growth across the combined capital cities has continued to ease since peaking at 11.1% per annum in July.

Over the three months to the end of October, dwelling values rose by 3.1% in Melbourne, while prices rose by 1.5% in Sydney and 1.2% in Brisbane over the same period.

Adelaide's median dwelling price rose by 1% over the three months, while Canberra's increased by 0.8%.

Perth was the worst performing city over the three months, with the median dwelling value down by 3.5%, while Hobart and Darwin saw decreases of 1.7% and 0.1% respectively.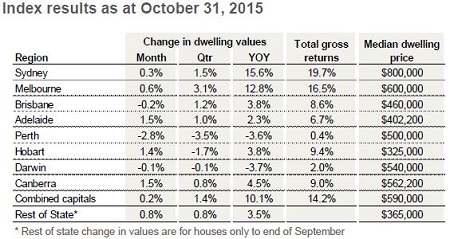 Source: CoreLogic RP Data
CoreLogic RP Data research head, Tim Lawless, said the slowdown in capital growth was being driven by a variety of factors.
"It's not just the fact that mortgage rates have recently risen outside of any lift in the cash rate. We are also seeing approximately a 30% premium on investment related mortgage rates, tighter lending standards and borrowers generally requiring a larger deposit," Lawless said.
"Gross rental yields at record lows and affordability constraints are acting as a further disincentive, particularly in Sydney where the median unit price is equal to, or higher than the median house price in every other capital city. Additionally, new housing supply is moving through record levels which should help to ease the upwards trajectory of home values," he said.
While Sydney and Melbourne are still leading the nation in terms of capital growth, with the index showing dwelling prices have increased in the two markets by 15.6% and 12.8% respectively in the 12 months to the end of October, Lawless said there are signs the two cities are losing their appeal.
"Investors are already paying higher mortgage rates, coupled with the growing acceptance that the growth cycle is peaking out at a time when rental income is at a record low which doesn't reflect healthy investment fundamentals in these cities," he said.
"Additionally, the higher deposit requirements for most new investment loans lessens the attractiveness of negative gearing benefits."
According to the figures, rental yields are at record lows for both Sydney and Melbourne.
Units in both cities are returning yields of 4.1%, while Sydney houses are returning 3.1% and Melbourne houses 2.9%.
While the rental market may be causing Sydney and Melbourne to be unattractive with investors, Hobart may be growing in popularity, with it returning yield of 5.3% for both houses and units.
"The relative affordability of the Hobart housing market, coupled with its lifestyle appeal and higher rental returns should help to revitalise Australia's southernmost capital city housing market," Lawless said.