Investment lending dropped to its lowest levels in six years over the December 2015 quarter according to the latest figures from one of Australia's biggest mortgage brokers.

Figures released yesterday by AFG show that investment loans accounted for only 31% or mortgages during the quarter, down from the 33% they accounted for in the September 2015 quarter.

The December 2015 quarter figures are the lowest since September 2009, when investment loans accounted for 29.8%.

Loans to first time buyers also fell in the December quarter, with those buying their first home accounting for 7% of mortgages, compared to 9% during the previous three-month period.

The December quarter saw in increase in mortgages written for refinancers, up to 38% from 36%, while upgraders also claimed a bigger share of mortgages issued, up to 35% compared to the September quarter's 34%.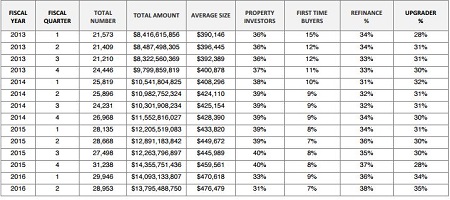 Source: AFG
AFG general manager sales and operations Mark Hewitt said the figures for the last three months of 2015 give a good indication of the changes seen in the Australian real estate market over the past year.
"2015 was a year of adjustment for both borrowers and lenders," Hewitt said.
"A shift in requirements for lenders set down by regulators saw many changes to lending policy and interest rates resulting in a level of confusion amongst borrowers," he said.
The figures from AFG also show the proportion of fixed rate loans also grew over the December quarter, with Hewitt claiming people may be preparing themselves for an increase in interest rates in the coming year.
"As foreshadowed by AFG's Competition Index late last month, the number of people keen to fix their loans is on the rise.
"A long period of low interest rates has many people predicting an upward swing may be on its way in 2016."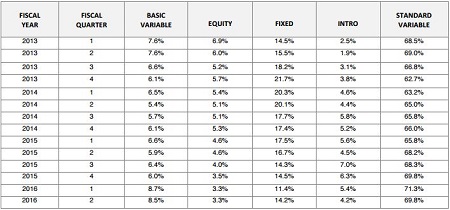 Source: AFG
According to the AFG figures, fixed rate loans accounted for 14.25% of mortgages during the December quarter, compared to 11.2% in the September quarter.
Unsurprisingly New South Wales is home to the highest home loans, with an average loan in the state worth $583,708, followed by Victoria at $465,199 and Western Australia at $444,218.
Nationally, the average mortgage is worth $476,479.