Inner-city rental markets appear to be the hardest-hit amid the COVID-19 outbreak, as the number of vacant homes continues to increase, according to CoreLogic.
While there is a general tightening across Australia's rental markets, inner-city regions continue to see a significant uplift in rental stock, which, as a result, places downwards pressure on rents and upwards pressure on vacancy rates.
CoreLogic figures show that of the 88 SA4 regions measured across Australia, 10 regions bucked the downtrend in listings amid the pandemic. SA4 regions, as defined by the Australian Bureau of Statistics, cover a population of up to 300,000 in regional areas and up to 500,000 in metropolitan areas.
Most of the SA4 regions with increasing listings are in Melbourne and Sydney. Melbourne's Inner region reported the highest gain in total rental listings, up by 52.3% from the onset of the COVID-19 outbreak in Australia.
"The dominance of Sydney and Melbourne with regards to heightened rental supply highlights the localised nature of the shock to rental demand that has been seen since the onset of the pandemic," said Eliza Owen, head of residential research at CoreLogic.
Given the rise in listings, the 10 SA4 regions have recorded median asking rent declines of as much as 10%, with Sydney's City and Inner South region reporting the biggest drop.
The table below shows the growth in total rent listings in the 10 SA4 regions from the onset of the COVID-19 to the latest data taken during the month to 9 August. The table also shows the extent of the drop in median asking rents.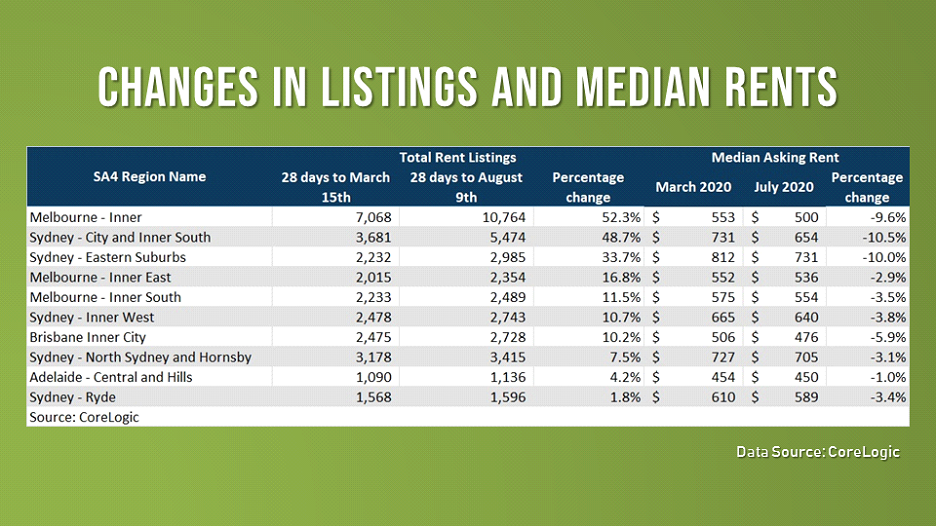 Owen said the international border closures have significantly contributed to the rise of rental listings in the inner-city regions.
"This is because the majority of new migrants to Australia are renters, at least initially. The 10 SA4 regions which have seen an uplift in rental listings between March and August, together accounted for 29.1% of the net overseas migration to Australia over the year to June 2019," she said.
Another factor contributing to this uplift in rental listings is the recent surge in high-rise construction activity. Housing demand, which has been continuously impacted by the weakness in labour markets, was unable to keep up to the increasing supply of rental homes.
"Due to the relatively high level of investor concentration, particularly in inner-city apartment markets, the patterns in rental supply and demand point to added downside risk for values in these precincts until international borders re-open and labour market conditions tighten," Owen said.