New listing volumes in Melbourne have "soared" since on-site, private inspections recommenced on 28 September, according to Eliza Owen, CoreLogic's head of research Australia.
"The result is likely due to months of pent-up decisions to sell from vendors, and reflects how the real estate transaction process has remained tied to physical inspections," Owen explained.
The number of new listings in Melbourne has increased around 330% in the four weeks ending 18 October, up to 6,974 from the 1,606 listed in the previous four-week period.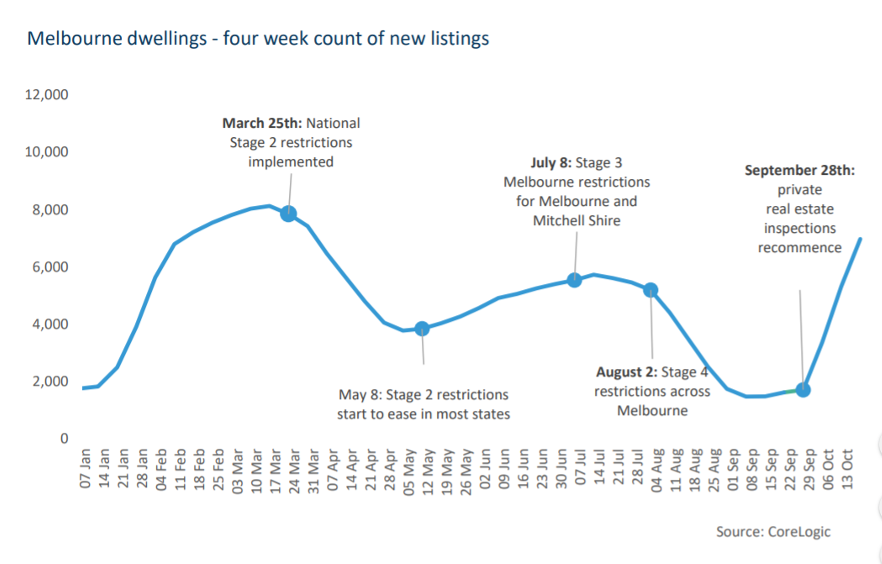 "The trend over time shows new listings plummeting to levels below the New Year holiday period amid stage 3 and 4 restrictions. Following the 4-week period ending 27 September, new listings have bounced significantly," Owen said.
"After months of restrictions, pent-up demand from sellers has accumulated so much, that more stock was recently added for sale in Melbourne than any other capital city region."
Across the greater Melbourne area, 39 of the 40 regions saw an increase in new listings over the past four weeks.
While the swell in numbers seems positive, suggesting consumer confidence may be returning, Owen acknowledged the significant uptick in new stock could mean a range of things for the state of the market.
"'Forced' selling was a possibility from the pandemic, as significant job losses across Victoria may have limited the ability of some households to keep paying their mortgage," she said.
"The latest financial stability review from the RBA noted that October was the period most mortgage deferrals were set to expire, which may have contributed to an increase in new listings in recent weeks."
However, it may not be so grim.
"A large increase in stock can also be a sign of a market rebound, as vendors sell to meet rising demand. High buyer demand can also mitigate risk for distressed sales, because the added demand pushes up prices," Owen continued.
In the four weeks ending 18 October, new stock added to the market increased by 5,370, but the change in total stock was only 4,790, suggesting that buyers are active and a portion of the stock on the market is being purchased.
Further, in the week ending 18 October, the final auction clearance rate in Melbourne was 60.2%, even with it being the highest volume of auctions seen in two months.
"It is clear that even after long, strict restrictions, vendors are keen to sell," Owen said.
"However, due to the lag between an initial property listing and a sale, it will be a few weeks before we can understand how strong buyer appetite is," she concluded.