Perth has been far from what anybody would consider to be a property hotspot in recent times, but figures from the Real Estate Institute of Western Australia (REIWA) show there are still areas of the city performing well.

Recent figures revealed the year June saw Perth's house prices hit with another solid decline in prices, but according to REIWA double digit growth can still be found in the city if you know where to look.

"Although Perth's property market has moderated over the last year or two, it's encouraging for home owners that there are pockets throughout the metro area that have performed well and enjoyed positive price growth in more complex market conditions," REIWA president Hayden Groves said.

In the year to May, the south eastern suburb of Lathlain was Perth's best performer as its median house price improved 11% to $860,000.

The beachside suburb of Swanbourne was the next best performer, with its median house price up 9.3% over the 12 months to May to $1.65m.

South Fremantle, where the median house price increased 7.2% to $1.04m was the third best performer in the year to May, while Applecross and Churchlands rounded out the top five with year-on-year growth of 6.4% and 6.2% respectively.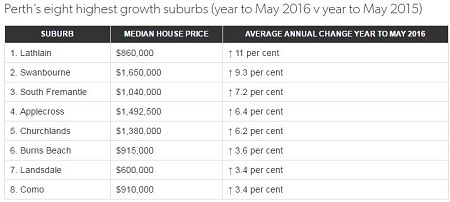 Source: REIWA
Groves said Perth's strongest performers over the year show there is a large proportion of buyers in the city who are making the most of current conditions as they look to trade-up.
"The bulk of Perth's house price growth was experienced in the central sub-region, and there were some good performers in the north-west sub-region as well," he said.
"Pleasingly these high growth suburbs are all within the trade-up sector, rather than first home buyer territory. This shows that more home owners are recognising there is plenty of opportunity in the current real estate market to take their next step."