Strong demand for rental properties across Australia is forcing weekly asking rents in some markets into record territory.

According to Domain Rental Market Report released today, only Perth and Darwin saw weekly median asking rents fall during the September quarter, with rents either increasing or holding steady in all other capital city markets.

Domain Group senior economist Andrew Wilson said capital city rental markets are currently hotbeds of competition as supply levels struggle to meet demand.

"Capital city rental markets remain a battleground for tenants, with high levels of competition for available properties continuing in most cities," Dr Wilson said.

"Low numbers of first home buyers and solid migration towards cities is keeping demand for rental properties generally well ahead of supply," he said.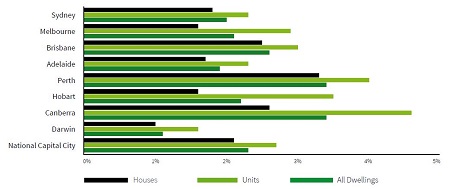 Capital city vacancy rates as of September 30. Source: Domain Rental Market Report
Sydney has experienced strong levels of rental growth, with median weekly asking rents for both houses and units increasing in the September quarter.
House rents in the harbour city are growing at their fastest level in four years according to the report, up 1% to a record high median of $530 over the quarter.
A 2% quarterly increase to a weekly median rent of $510 now means Sydney has overtaken Darwin as the most expensive unit rental market in the country.
Dr Wilson said these increases came despite Sydney currently seeing a record amount of new residential buildings come online.
In Melbourne, house and apartment rents still sit at their peak points, but there was no increase over the quarter.
The median weekly rent for a house in Melbourne is still a record $390, up 2.6% on this time last year, while the median weekly unit rent is $370, a 1.4% increase over the past 12 months.
"With rental prices significantly below that of Sydney, Melbourne is definitely a more tenant friendly city," Dr Wilson said.
"The flat median rental price result is surprising and goes against the increased supply of property in Melbourne."
It was a similar story in Adelaide, where rents are up year-on-year despite no increase over the quarter.
The median weekly rent for a house in Adelaide at the end of September was $350, a 1.4% 12-month increase, while over the same period unit rents rose 1.8% to $290.
Brisbane and Canberra have been the nation's most stable rental markets, with rents in both cities recording no increase over either the three or 12-month periods.
In Brisbane, tenants are facing a median weekly rent of $400 for a house or $370 for a unit, figures that will likely remain steady as well.
"There is no indication that the market will be shifting or moving any time soon, which is reflected in the strong growth of new developments and buildings," Dr Wilson said.
"There is a healthy balance between supply and demand in the region."
In Canberra, the median weekly house rent is sitting at $450, while the median weekly rent for a unit is $380, with little signs of growth occurring.
The September quarter delivered mixed results for Hobart; median house rents remained flat at $330 per week, while median unit rents jumped 3.7% to $280 per week.
In the 12 months to the end of September, house rents in the Tasmanian capital are up 6.5%, while unit rents have risen 7.7%.
"With the lowest vacancy rates of all capital cities, Hobart's rental market is tight," Dr Wilson said.
"While rents have remained flat over the last quarter, the short term affordability barrier is unlikely to continue. We suspect that rents will resume their growth track, sooner rather than later."
Perth and Darwin were the two capital cities where rents are declining, with both recording quarterly and yearly decreases.
The median house rent fell by 1.7% to $590 per week in Darwin, while the median unit rent fell by a significant 4% to $480 per week.
Overall, Darwin house and unit rents have fallen dramatically over the past 12 months, dropping by 10.6% and 12.7% respectively.
In Perth, median weekly house rents fell by 2.3% during the September quarter to $420, while unit rents declined by 4% to $360.
Both houses and units in Perth have recorded the lowest rents since March 2012, dropping 6.7% and 8.9%, respectively in the past 12 months.