Booming construction levels in Australia's apartment market may be on the brink of entering a down cycle as figures released yesterday suggest approvals for the sector have peaked.

The figures from the Australian Bureau of Statistics (ABS) show that new residential dwelling approvals fell 5.2% in May, with a 10.3% decline in multi-unit approvals the driving force.

Over the month, detached house approvals increased by a slim margin of 0.2%.

Approvals were 9.3% lower than they were in May 2015.

Housing Industry Association (HIA) senior economist Shane Garrett said while multi-unit approvals can be prone to volatile movements, he believes the construction industry should be preparing for consistent falls in approvals.

"Multi-unit approvals tend to bounce around a lot from one month to the next, but it's been clear for some time that activity on this side of the market has peaked," Garrett said.

"Interestingly, the RBA cut interest rates during May and today's result indicate that this move may have helped contribute to steadier conditions for detached house approvals," he said.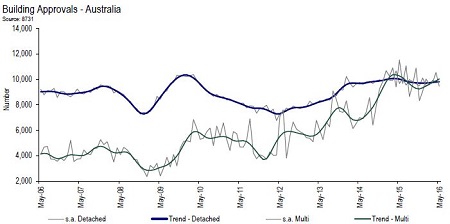 Source: HIA/ABS
While conditions may be steadier for the detached housing sector than compared to the unit sector, Garrett said approvals are likely to decline across all dwelling types.
"Today's figures fit closely with our view that new home building activity is in the process of declining from last year's record peak to more modest levels as the end of the decade approaches," he said.
"The contraction in activity is predicted to be concentrated on the multi-unit side, with a more measured reduction in detached house building."
Wilhelm Harnisch, CEO of Master Builders Australia, agreed with Garrett that approvals are set to decline, though by how much will depend on a range of different factors.
"The rate of decline in the new apartments market will largely be determined by the mood of investors," Harnisch said.
"On the positive side, continued lower interest rates will underpin investment, but this will be mitigated by any uncertainties that may arise in particular by other factors such as the tightening of lending rules and more recently, the outcomes of the recent Federal Election," he said.
During May 2016, total seasonally adjusted new home building approvals rose in Victoria (+3.1%) with a slight increase also occurring in Tasmania (+0.1%).
New dwelling approvals saw the largest reductions in Western Australia (-20.0%), Queensland (-17.6%) and South Australia (-13.0%) with a fall also occurring in New South Wales (-6.9%).
In trend terms, approvals rose by 18.7% in the Northern Territory and by 8.2% in the Australian Capital Territory.