Sydney's rental market remained tight during March, with figures showing the city's residential vacancy rate remained unchanged over the month.

According to the Real Estate Institute of New South Wales' (REINSW)Vacancy Rate Survey for March, Sydney's vacancy rate remained steady at 1.7% during the month, despite the fact conditions were mixed across the city.

The REINSW's figures show March saw vacancies in Inner Sydney sit at 1.3%, while in Middle Sydney the vacancy rate increased from 1.6% to 1.9%.

During March the vacancy rate in Outer Sydney pulled back from 2.1% to 1.8%.

REINSW president John Cunningham said the Sydney market, in particular Inner Sydney, would likely remain tight for the foreseeable future.

"The last time Inner Sydney had a vacancy rate of 1.3% was March 2014. The market is tight and is expected to remain tight for some time," Cunningham said.

"Rises in Middle Sydney and falls in Outer Sydney balanced out to see the vacancy rates for Sydney steady overall," he said.

Outside of Sydney, the Hunter saw 0.3% fall in its vacancy rate to 2.6% during March, with Newcastle's vacancy rate falling from 2.6% to 2.1%.

In the Illawarra vacancy rates were up 0.1% at 1.3%, with Wollongong's vacancy rate falling 0.2% to 1.0%.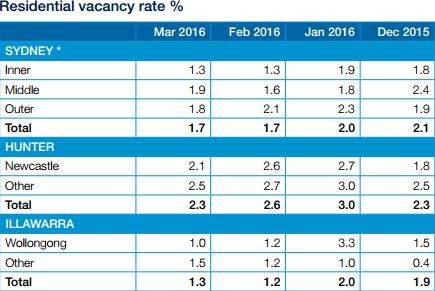 Source: REINSW
Across regional areas, availability in Albury fell 0.1% at 3.6%, New England rose 0.8% at 3.6% and Orana dropped 0.4% to 3.3%.
Coffs Harbour fell 0.8% to 1.5% and Northern Rivers rose 0.1% to 1.5%.