Victoria's rental market remained tight in January, with metro and regional areas both recording low vacancy rates, according to the latest market update from the Real Estate Institute of Victoria (REIV).
Over the month, vacancy rates remained stable at 2.2% for metro and 1.7% for regional areas. Vacancy rates in Victoria have been under 2% since March 2016.
REIV President Leah Calnan said the current state of Victoria's rental market indicates an urgent need for more rental properties.
"Healthy vacancy rates are usually around the 3% to 4% mark. Having vacancy rates as low as 1.7% or 2% is not sustainable," Calnan said. "There is a strong demand for more rental properties, and sadly many families are still struggling to get a rental home."
The median rent for Melbourne houses remained at $480 per week. Regional centres, on the other hand, witnessed a slight dip in median weekly rents to $350.
Also read: Victoria faces threat of supply crunch
Calnan said the concerns about the changes to the state's tenancy laws could be affecting the sentiments of landlords and property investors.
New rules are set to be implemented in Victoria this year. Under the changes, tenants will be allowed to make minor changes to the property without the consent of the landlords. The new laws will also prohibit landlords from evicting their tenants without cause at the end of a fixed-term agreement.
"Many landlords remain confused about the upcoming changes to the rental laws in introduced by the Victorian government, with many being apprehensive about how the new regulations will impact them. The government needs to work more closely with landlords and the real estate sector to ensure more homes are available to rent," Calnan said.
The tables below show the vacancy rates across Victoria: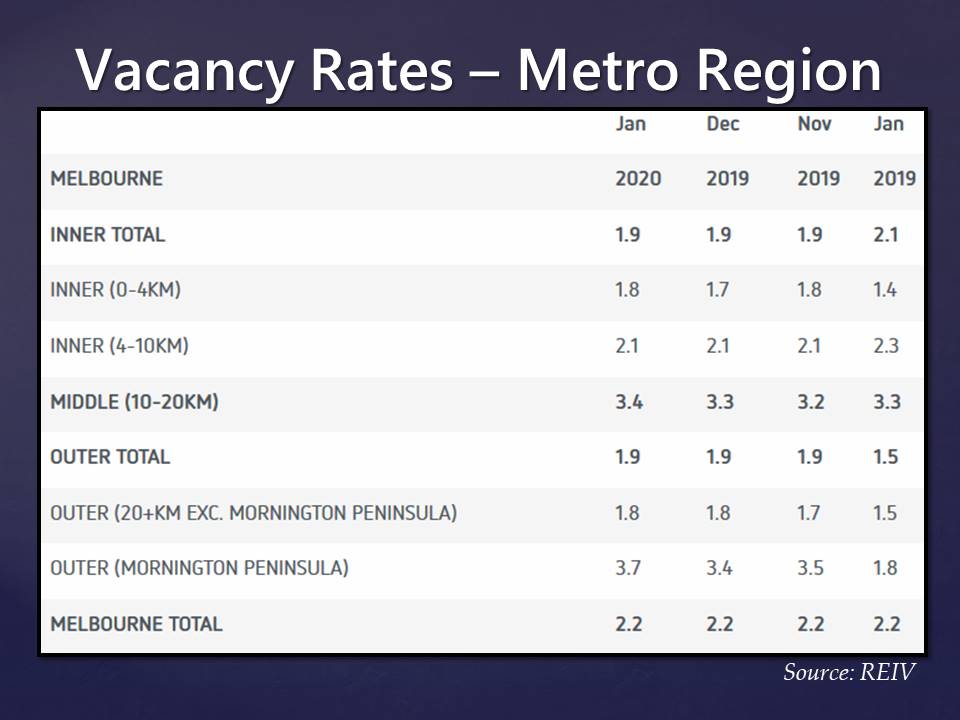 Vacancy rates in Melbourne remained tight in January 2020 at 2.2%.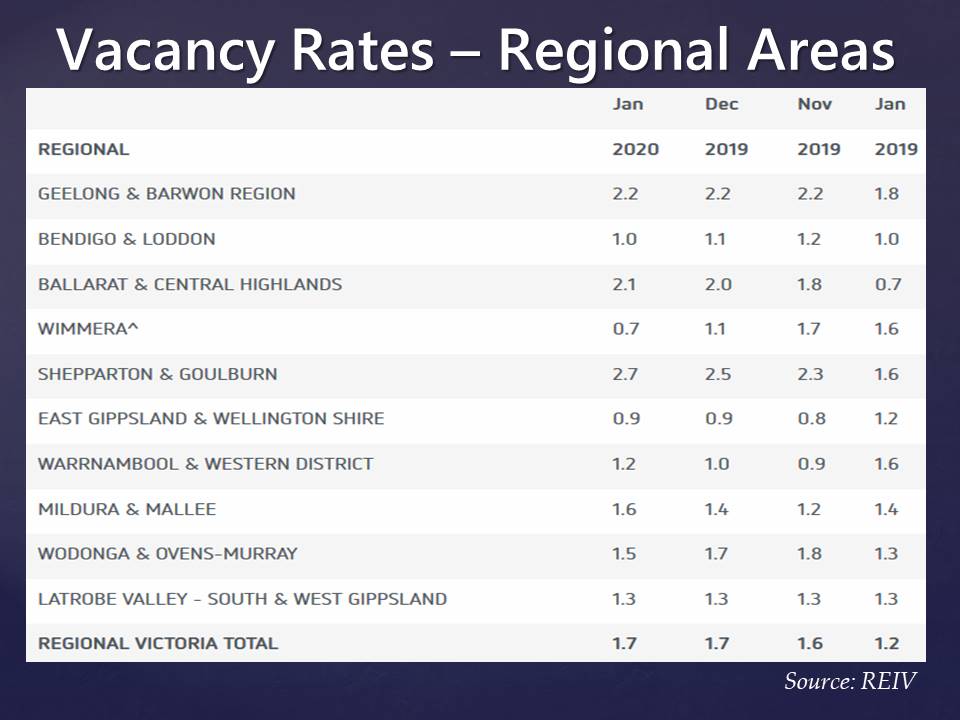 Regional areas in Victoria maintained an average vacancy rate of 1.7% in January 2020.