In the last couple of decades, the world has come a long way in terms of data and research. Technology has made everything so convenient, and you can view – and share – almost anything you desire from the tip of your fingertips through your phone.
Nowadays, you can even do business globally from the comfort of your home. When it comes to property investment, the internet is widely used by everyday investors as they build their portfolios. The majority of listings are posted online through real estate websites, along with professional photos and detailed descriptions of the home to whet your appetite. Advisors, buyers' agents and property managers ply their trade online as well, highlighting their expertise through their social media presence, via podcasts, blogs and more.
With the popularity of interstate and overseas property investment, the strategy of buying sight unseen is no new trend. It is the process of buyers making a purchase without having seen or inspected the property first – making the decision only on the basis of information gleaned from the listing, together with their own research and advice from an agent.
It certainly makes things easy practically, but will it pay off for you in the long run?
Some call buying sight unseen the "blind dating of investment strategies", and as with the human version there are arguments both for and against its effectiveness. To get the most out of the process, we outline five steps to buying sight unseen.
Buying sight unseen is rooted in research – deep, extensive research. It's the key driver in determining the property you buy
1. Be clear about your criteria
Before you use your internet connection to look at listings, the first important step you must take is to decide what you want out of your potential property. Are you looking for a house? A unit? How many bedrooms? In which area? What kind of returns are you looking for? What kinds of tenants? What's your budget?
Buying sight unseen is rooted in research – deep, extensive research. It's the key driver in determining the property you buy because you will be relying completely on whether or not potential properties tick off the boxes on paper. So setting clear and specific guidelines will help you eliminate lemons right off the bat.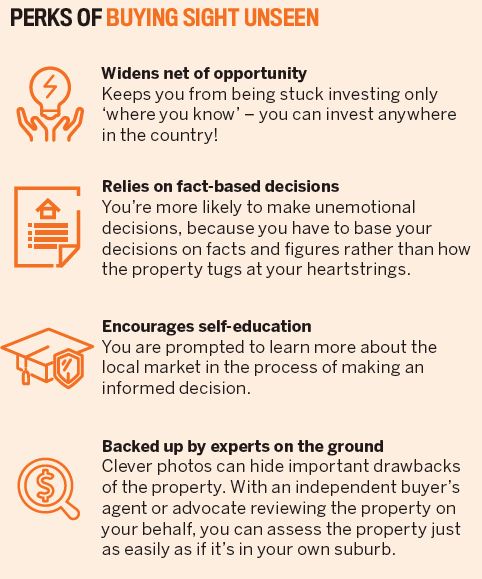 2. Focus on areas with strong growth drivers
The wealth of information at the fingertips of investors is the main reason why buying sight unseen is growing in popularity. Buyers can now consider properties all around the country – and even overseas – because they're no longer limited by the inability to do a personal inspection. The key to your success is in how effectively this treasure trove is utilised.
Crucial details to pay attention to in determining the best areas to look at are growth rates over a longer period of time; planned or ongoing council developments; council regulations; building and strata inspections; vacancy rates; demographics; holding costs; and possible income and deduction calculations. All of these can be obtained online through websites like CoreLogic, Your Investment Property or Real Estate Investar.
You don't have to limit yourself to the internet either. Make a phone call to information sources like local councils and real estate agents to get a clearer perspective on the area.
3. Look at reputable websites
Even if you're on a budget, don't let that drive to you to focus on listings in supremely cheap but obviously sketchy suburbs, just because the price is right.
Real estate sources that lack credibility and promote suburbs that don't have growth drivers in their favour will increase your chances of being sold a lemon that's been misrepresented as a 'bargain'.
Some good, reputable sites to review when browsing real estate include realestate.com.au and domain.com.au, which are highly recognisable in the industry and have strict standards with regard to who can advertise listings on their platforms.
4. Enlist a good local property manager/buyer's agent
If you've found a property that you thinkcould fit the bill, get communication going – but not with the vendor just yet. While most, if not all, listings come with photographs to give you an idea of how the property looks, do take note that many vendors are able to get professional photographers to make the product look better than it does.
The right angle can hide important negatives like a terrible view, an electric tower just beside the property, or a floor whose foundation is not looking so stable.
For this reason, you may consider hiring a buyer's agent to be a representative who has your best interests at heart. The agent should be local to the area you're looking into, because they will know the lay of the land better that you – they will know which pockets are more valuable than others, and be more aware of any potential downsides to the location that the vendors may have left out of their descriptions.
Interstate buyers' agents who are not from the area will find it difficult to assess the property's value, and are more likely to make rushed decisions because they're on a travel schedule.
5. Do independent verifications
Your buyer's agent has given the thumbs up to the property you're eyeing, so that must mean it's time to start negotiations, right? Not quite yet.
Once again, take advantage of everyone's best friend, Google, to do your own check on the property and its surroundings. Google Maps is actually a great tool for sight-unseen buyers – it will show you the amenities in the area so you can quickly catch potential issues like the property being situated next to a manufacturing plant, a noisy highway or a cemetery. Street View can even allow you to check for features like power lines (although you do have to make sure the photos are up to date!).
If you've got a contract in front of you already, you can also hire an expert to do a handover report that confirms whether the specifications in the contract do in fact match the actual property. Have your own building and pest inspections done as well – these checks could be the difference between the right choice and a bad property that does your portfolio harm.
Buying an investment property sight unseen can be a divisive strategy. Some believe that it's a savvy play, enabling you to explore more options further afield than in your own neighbourhood, rather than being stuck investing 'where you know'.
What's more, it allows you to truly divorce any preconceptions you have from the property, as you're not falling in love with the kitchen, or imagining how happy the home's residents would be having brunch on the back veranda.
You don't have to limit yourself to the internet; make a phone call to information sources like local councils and real estate agents
Nevertheless, other investors consider it a risky gamble that may not pay off. Buying interstate or intrastate without physically inspecting the property yourself could mean you miss nasty surprises – like an obstructed view, or a cemetery next door. It may also bring extra headaches when repairs and maintenance are due, and you have to arrange them from afar.
Ultimately, however, a sightunseen investment should be handled exactly the same as if you were able to visit the property and walk through it a dozen times – with little emotion and a clear focus on the numbers. Whether or not you live in the same area as your property investment, your decision to become a landlord should be based on the profit potential of the asset.
When viewed in this light, buying sight unseen doesn't seem that risky after all. Furthermore, by following our basic steps a sight-unseen investment strategy needn't be a 'blind date' disaster and could instead set you on the path to financial security.