12/04/2018
A good buyer's agent delivers a seamless, stress-free property buying experience, while helping you navigate the pitfalls and risks of real estate along the way.
The 'best in show' take it to the next level by really tuning into your property-related goals. Why are you buying this property? What is your overall strategy?
How many properties do you want to buy overall, and how does this purchase fit in with your bigger picture? These are just some of the questions an A-list buyer's advocate will ask you on your property journey – and when it comes to A-list agents, we're proud to showcase some of the best in the industry in our inaugural awards!
Out ahead of the pack, our Top 10 Buyers' Agents in Australia reveal how they continue to add value to the property industry, no matter what the market throws at them.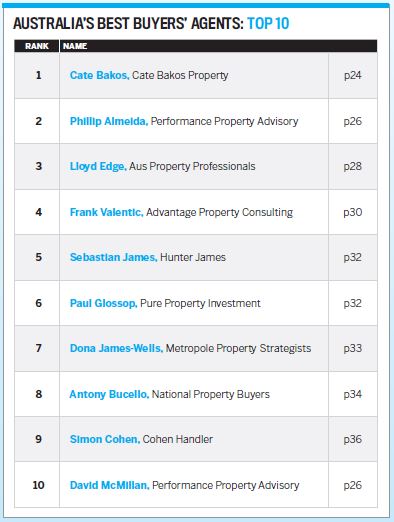 HOW WERE BUYERS' AGENTS SCORED?
Your Investment Property magazine's ranking system is an objective means of evaluating the best-performing buyers' agents across the country – not just those with the biggest portfolios or the largest client lists.
Each buyer's agent was required to supply their own details to Your Investment Property to be eligible, along with details of a contact who could verify those figures.
Using a unique methodology to ensure all buyers' agents were compared on a level playing fi eld, we scored all entrants in the following areas, with each buyer's agent given a score for each criteria. The totals were added up and were reviewed against each agent's individual answers and supporting material, to come up with our final Top 10 list:
- Number of properties purchased
- Total value of properties purchased
- Average property value
- Total client numbers
- Number of new client numbers
- Number of repeat clients
TOTAL VALUE OF PROPERTY OUR TOP 10
PURCHASED IN 2016/17: $762,413,356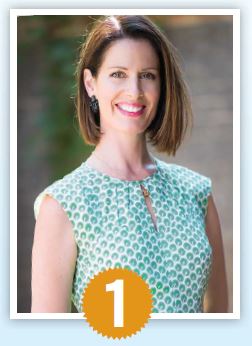 CATE BAKOS
CATE BAKOS PROPERTY
Cate Bakos doesn't consider herself a buyer's advocate; instead, she's an agent of change with a mission to "solve problems and help people". It's this ethos that has driven her phenomenal success, leading Cate to be crowned Your Investment Property's number one buyer's agent in the country!
"I'm passionate about our industry and determined to leave a positive legacy for every client I assist"
Cate Bakos is not one to bask solo in her success. Having steered her business, Cate Bakos Property, towards nine-fi gure settlements in 2016/17, Cate is eager to share her win with her team.
"We are a tight team of four full-time women, and our boutique and personable nature shines through in all of our dealings. Every client's strategy is engineered unique to their needs and cash flows," Cate says.
"Every single day, I interact with interesting folk. The days can start with structure and turn into a hurricane, but no two days are the same, and the problem-solving always keeps me on my toes."
A member of the Real Estate Buyers Agents Association of Australia, Cate enjoys giving back to the industry she is so passionate about, and is currently vice president of the association. She also has a policy of assisting at least one client gratis per quarter – someone who identifi es as really needing the care of a diligent buyer's agent but doesn't have the funds to pay them.
Operating as a boutique, independent buyer's agent, Cate adds that being recognised with this award "means so much".
"I can't find the words without feeling a little emotional," she says. "I built this career after a brave decision to walk away from chemistry, leave corporate, and train and work as a mortgage broker during my daughter's arrival and preschool years, and I don't think I've worked too many weeks of less than 70 hours over the last seven years. I'm passionate about our industry and determined to leave a positive legacy for every client I assist."
AT A GLANCE
Years in the industry: 7
Number of properties purchased in 2016/17: 3–4 per week
Cate originally graduated with a degree in chemistry and worked for commercial explosives company Orica.
"You have been amazing through this process in teaching us so much, guiding us so seamlessly and keeping us fully informed. We literally started this journey not knowing that buyers' advocates existed you made the daunting idea of buying Melbourne property from Darwin so easy!"
– T and M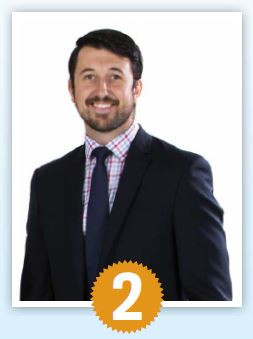 PHILLIP ALMEIDA
PERFORMANCE PROPERTY ADVISORY
His role may be about negotiating property deals, but for Phillip Almeida what his job really boils down to is building long-term relationships. "The property industry is about people and building relationships, and no day or property is 2 ever the same," says our number two buyer's agent
A Buyer'S agent of 15 years, Phillip Almeida from Performance Property Advisory credits "an excellent mentor" with giving him the foundations on which he's built his career success.
"I was lucky enough to shadow them for 10 years, and that taught me all the ingredients to conduct yourself in the right manner. To this day I'm grateful I was given the opportunity," Phillip says.
"I feel very privileged to receive this award, and I couldn't have achieved it without the strong support of my family, our amazing team at PPA, and our business partners."
With a passion for real estate, and driven by an "aim to increase the highest standards in the property industry", Phillip is enjoying the opportunity to "use property to generate a positive outcome in someone's life".
"I transitioned a client out of a poor-quality off -the-plan asset and into a good-quality blue-chip property," he says, "and she is now back on track with her retirement goals."
"He knows the market so well and has the right contacts, so we were more than happy to let him manage the whole process. He negotiated a great price on our behalf, and the property was let within a week of settlement"
– Craig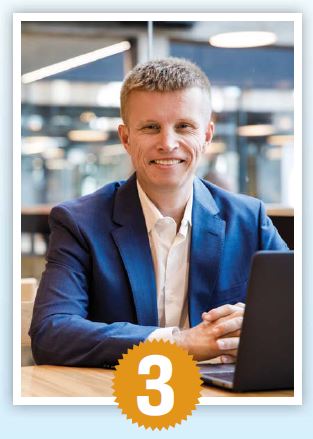 LLOYD EDGE
AUS PROPERTY PROFESSIONALS
Lloyd Edge of Aus Property Professionals prides himself on his value proposition: to build wealth and create lifestyle choices. It's a philosophy that's helped him secure third spot on our list of Top 10 Buyers' Agents in Australia
"In less than 12 months, my clients regularly achieve upwards of $150,000 in equity uplift"
Lloyd Edge has a simple philosophy when advising his clients: "If I would not buy the property myself, I would not recommend it to a client."
He says, "I create equity through a focus on duplex builds, strata titling and subdivisions. In less than 12 months my clients regularly achieve upwards of $150,000 in equity uplift.
"The amount of repeat clients I have is testament to the results we get and the service we offer, which is why I see winning this award as a team eff ort. This would not occur without our clients' trust in our services. Being recognised in this way is fantastic, but it is just as much for the clients as for myself."
A fi nalist in the 2017 Real Estate Institute of NSW Awards for Excellence in the Buyer's Agent category, Lloyd is "very passionate" about the chance to use property as an excellent vehicle for achieving financial and lifestyle goals.
"You can't save your way to wealth, and working a full-time nine-to-fi ve job is a very slow way to wealth creation. I had a client fast approaching retirement age, who engaged me to devise a strategy to fast-track their investment portfolio and pay off some debts.
I determined that developing a duplex was the best strategy, and the development resulted in over $300,000 in profi t," Lloyd says.
"What they achieved was what really sums up why I love being a buyer's agent. They are now paying off other debt … they're now in a much better position fi nancially. Property is quite a stable investment, and I also love how the world of property is so versatile. This versatility and these strategies help me and my clients reach our goals faster."
AT A GLANCE
Years in the industry: 5
Number of properties purchased in 2016/17: 93
An impressive 50% of Lloyd's business comes from repeat clients
"
His commitment is unrivalled. Despite providing multiple choices for locations and investing options, Lloyd does not push you into anything and doesn't do the hard sell. Rather, he listens to your thoughts, provides clarity on the unknown, and answers all the tough questions."
– Justin and Nikkie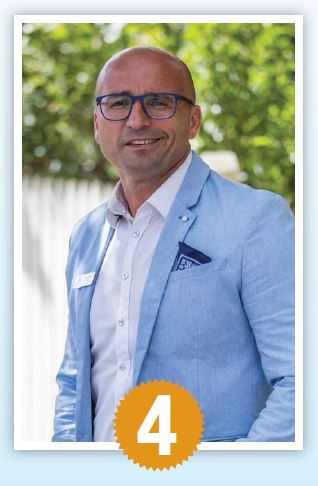 FRANK VALENTIC
ADVANTAGE PROPERTY
Underpromise and overdeliver. This is the motto that Frank Valentic from Advantage Property lives by. Boasting almost two decades of industry experience, he's been ranked fourth on our list of Australia's best buyers' agents – and for good reason
"It's great to help clients with their journey, and to get the opportunity to meet so many amazing people and create close relationships"
AS ONE of the founding buyers' advocates in Melbourne, Frank Valentic has amassed over 17 years of experience to become "one of the most experienced buyers' advocates in Australia".
"I always aim to wow my clients with services that exceed their expectations," he says of his secrets to success, "and I always aim to be professional and continuously improve my systems with cutting-edge and personalised services. We also offer a one-stop shop where we off er in-house property management, owners corporation and advocacy services."
Having built his own large investment portfolio over 22 years of personal buying, Frank says he can particularly relate to his clients with their own investing pursuits.
A multi-award-winning agent, Frank adds that this accolade "means a lot".
"Over the last 18 years we have been recognised as one of Australia's leading buyers' advocates, with a number of state and national awards, and it's always humbling and a great recognition," he says.
"I love being able to change people's lives by assisting them with either building a portfolio or upsizing or downsizing to their dream home. It's great to help clients with their journey."
One such example was a 2015 property purchase in Chelsea for $230,000. "After a small cosmetic renovation, our clients have it on the market for over $600,000. Being able to create such fast results is really exciting for us."
AT A GLANCE
Years in the industry: 18
Number of properties purchased in 2016/17: 46
"We're absolutely over the moon! We're so grateful to you and your team and the influence you're having on our lives. This purchase couldn't have come at a better time, and we're very excited to continue our dream of property investing"
– Mac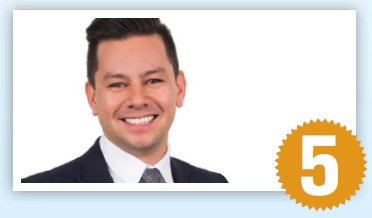 SEBASTIAN JAMES
HUNTER JAMES
Accustomed to achieving optimal results for his clients, Sebastian James says one recent deal sums up why he's so passionate about being a buyer's agent.
"I purchased a small development site, off -market, for a client in a popular emerging suburb proposed for rezoning.
Within a week of exchanging on the deal, an almost identical property sold at auction for almost double the price we paid," Sebastian says.
"To see such an immediate gain is fairly uncommon in the current market, but more importantly, what this gain meant to my client – who had put his trust in me to help him achieve his goals – is why I do this."
Having started Hunter James to "put the buyer's best interests at the forefront of each and every decision", Paul says he is committed to lifting the industry. He is one of just fi ve buyers' agents on the Real Estate Institute of NSW's buyers' agents chapter executive committee.
"I believe success is a journey, not a destination," Sebastian says, "so this award marks an occasion on my journey to being one of Australia's leading buyers' agents."
AT A GLANCE
Years in the industry: 13
Number of properties purchased in 2016/17: 64
Sebastian's average property transaction is a seven-figure deal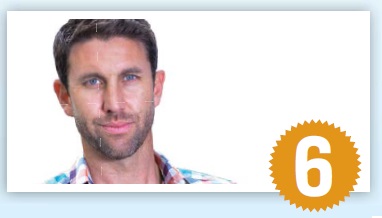 PAUL GLOSSOP
PURE PROPERTY INVESTMENT
Relatively new to the industry, Paul Glossop established Pure Property Investment three years ago as a bespoke full-service buyers' agency.
In a short space of time his business has grown by leaps and bounds. Last year, it was named Property Business of the Year at the 2017 Optus My Business Awards, and was a fi nalist in the 2017 REB Awards.
This is a testament to the agency's approach as a small business that ensures "every single one of our team members, from setting the strategy to settlement … is across every aspect of our client's purchases", Paul explains.
"We work alongside, and in the background for, our clients throughout the whole settlement process and beyond. Our clients are time-poor and our process is focused on taking the time and effort out of property investing."
Having recently been accepted onto the board of Property Investment Professionals of Australia, the industry's governing body, Paul says his biggest thrill is "making the complicated uncomplicated, and enabling investors to do more than they initially think is possible."
AT A GLANCE
Years in the industry: 3
Number of properties purchased in 2016/17: 125
In 2016/17, Paul averaged one property purchase every two business days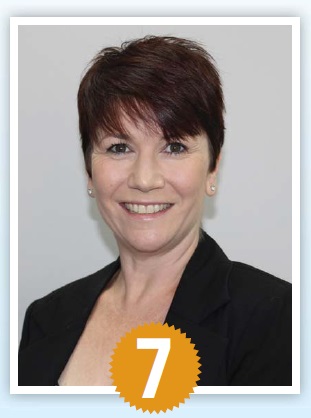 DONA JAMES-WELLS
METROPOLE PROPERTY STRATEGISTS
It's not just Dona James-Wells' 17 years of real estate experience that won her seventh place on our list of Top 10 Buyers' Agents in Australia; it's also the fact that her approach to due diligence is second to none, resulting in scores of happy clients year after year.
Dona James-Wells, a NSW-based buyer's agent with Metropole Property Strategists, purchases 50-plus properties per year on behalf of her clients, often in competitive markets.
This experience, she says, has given her "an unparalleled skill set in negotiation, and intimate market knowledge".
"The value I add comes from determining a property's intrinsic value, and negotiating and securing the property at or below that value so the client never pays a premium," Dona says.
"Having spent just over six years as a buyer's agent and 11 years previous to that as a real estate agent, I love the variety where no two days are the same. I love my clients most of all, as they come from all walks of life but they have one common goal: to achieve independent financial freedom."
Receiving this award "means validation of my role and the work that goes into helping my clients achieve their dreams", Dona says, though she adds that it's the results she gets on behalf of her clients that deliver her greatest sense of achievement.
"As this is not a nine-to-five job, you do what it takes to get the purchase across the line, even if that means exchanging contracts at 8pm. Therefore it is an honour to receive acknowledgement of the effort that goes into each and every purchase," Dona says.
"Five years ago, I secured a property in the inner west after making an off er of $420,000, which I was certain would be rejected. But it wasn't – and it has in fact put that particular client years ahead in terms of capital gain, as the most recent valuation was $720,000.
Having growth at this level means many more options are available to clients for their future plans."
AT A GLANCE
Years in the industry: 17
Number of properties purchased in 2016/17: 52
In a testament to her results, around 27% of Dona's business is made up of repeat clients
"Dona's regular, detailed communication put any fears we had at ease, as we quickly built a strong level of trust. I've got no doubt that the cost of using a buyer's agent is outweighed by the financial gains directly attributable to her finding [us] such a valuable property"
– Ricky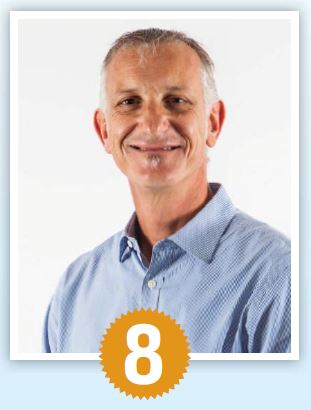 ANTONY BUCELLO
NATIONAL PROPERTY BUYERS
Taking out the lucky number eight spot in our nationwide Top 10 ranking, Antony Bucello of National Property Buyers has leveraged his 30-year background in finance and real estate to become a sought-after buyer's advocate
It's his desire to help his clients achieve what they may believe is impossible, while encouraging them away from making costly mistakes, that prompts Melbourne-based buyer's agent Antony Bucello to go the extra mile.
"I know that a property purchase is the largest fi nancial transaction most people make, which is why it's vital to minimise the possibility of a mistake," Antony says.
"There are times when our clients can become set on a property, but if I think it's unsuitable I don't hesitate to inform and educate them on why. It would be a quick fee if I followed their original instructions, but that would be negligence."
Recently this philosophy played out when Antony had the opportunity to secure a buyer and vendor advocacy job. "She lived in a fabulous area in a home with great bones, and with some minor renovations it would meet her future family needs. So I advised her that her best plan of action was to renovate – at the cost of two jobs to us," Antony says.
"I have invested an enormous amount of time and eff ort to be a reputable and successful buyer's agent, and being recognised as a Top 10 Buyer's Agent is something I'm very proud of. "While we work in the property industry, I believe we are just as much in the 'people industry'.
Knowing about real estate is one thing, but we also need to learn to communicate effectively with people in order to be successful. That said, inspecting, researching, assessing, and the feeling of successfully negotiating a purchase of a property on behalf of clients is something that I will never get tired of."
AT A GLANCE
Years in the industry: 17
Number of properties purchased in 2016/17: 81
In 2016/17, Antony averaged one to two property purchases each week
"I would highly recommend Antony for professional and personalised service. I am delighted with the outcome: I'm now the owner of a great property because of Antony's expertise and, importantly, his support and advice throughout every step of the process"
– Lesley Yates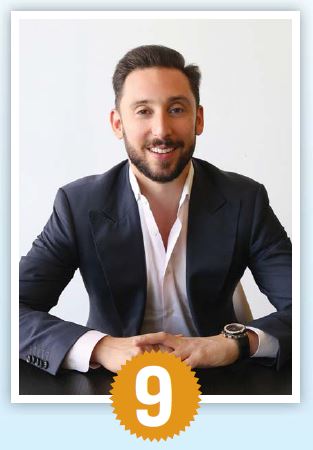 SIMON COHEN
COHEN HANDLER
As managing director and co-founder of Cohen Handler, a local buyer's agency with a global presence, Simon Cohen is one of the highest-grossing buyers' agents in the country. His success in securing off-market deals landed him ninth position in our Top 10 list.
"Closing a deal for a client is still as exciting today as it was when I did my first deal ever"
Simon Cohen established Cohen Handler with co-founder Ben Handler in 2009, and in 2017 they made the bold move to open an office in the United States.
Installing Australian expat Rowan Isaacs to run operations at Cohen Handler Los Angeles, Simon says they are proud to "fly the flag for an Australian buyer's agency business in one of the most competitive markets in the world".
Cohen Handler now has offices in Sydney, Melbourne, Brisbane, Singapore and Los Angeles, though for Simon, who is based in Sydney, it's pursuing property deals closer to home that occupies the lion's share of his time.
"I love being able to help people purchase the thing they work the hardest for: their dream home or investment property. Closing a deal for a client is still one of the most exciting things in business – it's as exciting today as it was when I did my first deal ever," Simon says. He estimates that around 60% of the stock he buys for clients is off -market or pre-market, and says he achieves an average saving of almost 10% on their purchases.
"I pride myself on fi ghting as hard as I possibly can to get my clients the best possible outcome," Simon says. "I had clients looking to buy a home for over a year.
They signed up with me, and after two weeks I showed them an off - market property that far exceeded their expectations in every way.
"We managed to buy it for $1m below asking price, and two days after we exchanged they were off ered $1.8m more than we purchased it for! It was amazing to see the value we added for them, not only purchasing off -market but securing a home well below market value too."
AT A GLANCE
Years in the industry: 9
Number of properties purchased in 2016/17: 34
Simon's average property transaction is a seven-figure deal
"When the right property did come up, Simon moved so fast and so skilfully to close the deal off-market that it prevented competition from other potential buyers. It was well worth the investment of our time and money to work with Simon!"
– GN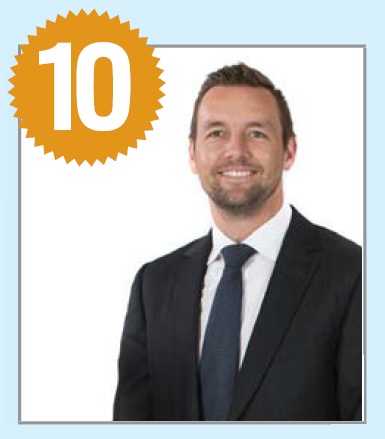 David McMillan
Performance Property Advisory
Pivoting from a career as a valuer to a buyer's agent, David McMillan's strong work ethic, tenacity and professionalism secured him 10th position.
His days are spent carefully assessing deals and negotiating on behalf of clients, seeking out suburbs Australia-wide that have "the best chance of success". But David McMillan, one of three directors of Performance Property Advisory, says his biggest daily challenge is understanding which way markets will move, "and the constant professional development that goes with this".
Clearly, his hard work is paying off , as the business has been a fi nalist in the 2016 Telstra Business Awards, a two-time BRW Fast Starter winner, and an AFR Fast 100 recipient.
"I don't do it for the awards. I do it to help as many people as possible," David says. "In 2009 when I first started, I had a client call me in tears to thank me for my hard work. In 10 years of doing valuations prior to this, all I had was ratepayer or mortgage applicant abuse!"