14/01/2016
Effective negotiating: it's a skill that can quite literally save you tens of thousands of dollars, if not more, while also giving you the competitive edge over other investors who aren't quite as experienced.
Negotiating well is about much more than simply interacting with a property vendor, argues Rich Harvey, CEO of PropertyBuyer.com.au; it's a purposeful strategy that can ensure you add a quality, well-priced property to your portfolio, while both the seller and the buyer walk away feeling like they've had a win.
"Negotiation is an art. It's not something you can learn from a textbook, as there's no substitute for experience and learning how to negotiate based on real-life situations," Harvey says.
To negotiate with the artistic integrity of a buyer's agent, where should you start? And what are some of the tactics they use to get the best deal?
We turned to the experts for their inside tips, and reveal here some of the secrets that can give you the upper hand.
Step 1: Identify your target, then be friendly
One of the biggest mistakes investors make when commencing negotiations with a vendor or real estate agent is to play games, Harvey explains.
"We always position the buyer very well by approaching the agent and expressing sincere interest," he says.
"A lot of buyers shoot themselves in the foot by making a very vague approach. They say, 'Well, we might be interested …' and they try to act nonchalant, but it's just playing games to act like you're not interested when you are."
Instead, he takes the opposite approach by being as direct as possible, as this conveys to the vendor that you're a serious prospect and establishes
a positive grounding for future negotiations.
"We'll say, 'We love the property, we're very interested, and you'll have an offer by 5pm today'," Harvey says. "You have nothing to gain by acting coy."
Paul Wilson, buyer's agent and founder of We Find Houses, adds that the secret to gaining the upper hand in a property transaction is access to information, which is why befriending the agent is a good strategy.
"Some people go in so hard that there's no relationship built," he says.
"If an agent has a choice to either deal with someone who is rude, abrupt and unpleasant or someone who is nice, they're going to opt for the latter."
Step 2: Begin pre-purchase negotiations
Your first round of negotiations begins when you're preparing to present your first offer. As already established, there's no point in kicking things off with a negative or aggressive approach, as you're far less likely to achieve a positive outcome this way.
"You can be pleasant while still being quite transparent and assertive. You've really got to understand people and relationships; it underpins everything we do as negotiators," Wilson says.
Initial negotiations will focus on two main areas: price and conditions. Both elements are important, and gaining an understanding of the vendor's motivations will help you position your offer to best suit their desired outcome.
Once you have this information, try using the following negotiation strategies to help you land the best price:
Know your market: "If you're just shooting from the hip with any old price, and you've got no validity behind it, the vendor may think you're just being difficult," Wilson says. "You want to be able to justify your position and show that there's some thought behind the process into making your offer."
Highlight the deficits: Once the door has been opened to a discussion on comparable sales, you can begin pointing out the benefits and attributes of other similar properties – such as views, aspect, number of bedrooms and any renovations – compared to the one you are buying.
Confirm the vendor's expectation: "We'll ask the selling agent what price they have quoted to the vendor, and what direct comparable sales they have given the vendor in regard to this price," Harvey says. "This not only tests their knowledge but it also gets the conversation going about comparable sales, and how those other properties stack up compared to this one."
Aim for a win-win: "Many people don't understand the concept of a win-win negotiation, but in property it is critical," says Zoran Solano from Hot Property Specialists Buyers Agency. "Recently, I was negotiating directly with some property owners and we were tens of thousands of dollars apart. I asked some key questions to better understand their situation and discovered they didn't have a new property to move into. We offered them a rent-back post-settlement and the sellers lowered their price expectations, as they didn't have to rush to find their next home – while my client achieved a rental return from day one after settlement."
Consider making multiple offers on multiple properties: It's an aggressive strategy and it doesn't suit every buyer, but buyer's agent Todd Hunter from wHeregroup swears by multiple offers as a clever negotiation strategy. "On a good inspection day, I might do 20 inspections, put in 10 offers, and then successfully negotiate and purchase two properties," Hunter says. "It's a lot of looking at property to get the ones that are suitable."
Step 3: Make an uneven offer
So you've built a rapport with the selling agent, liaised with them on comparable sales, and advised them to expect an offer from you.
Next, you need to set your price. Of all of the strategies that buyers' agents use when negotiating, making an uneven offer is the most commonly used and one of the most effective.
If a property is listed for $500,000, for instance, you might make an offer of $481,500. This demonstrates to the vendor that you've put some serious thought and process into presenting your offer, and may even indicate that you've stretched every last financial resource in order to put your highest possible offer on the table.
"I can't tell you the number of properties I've won, particularly when there's been multiple offers on the table, because I've added a few hundred dollars to my offer," Wilson confirms.
"The smallest increase can get you across the line, and your ability to secure the property can come down to just a few hundred dollars."
Step 4: Predetermine your walk-away figure
Stage two negotiations will commence once the vendor responds; they may accept your offer as is, but most times some negotiating back and forth will be required.
Before this commences, it's imperative that you predetermine the maximum amount you're willing to pay for the property – and not a penny more.
"Before going into negotiations you should establish your top dollar, and then you should be prepared to walk away if negotiations exceed this figure," Solano says.
"Don't get caught in the trap of overpaying for property – just walk away! You never know how the deal will progress; I personally keep properties on my radar until I either purchase elsewhere for the client, or I know that the property of interest has gone unconditional. There are many times I have received a call a week after missing out on a property, to find the other buyer's finance has fallen through or they have had cold feet and pulled out of the deal."
It also pays to put a deadline on your offer, Harvey advises, to ensure your negotiations don't become protracted – and to put pressure on the sellers.
"We helped a couple in Maroubra, Sydney, purchase a property that
was being seriously underquoted for auction, and we knew we had to move prior to the auction day to secure it. We appraised it at up to $2.3m, so we submitted an offer of $2.215m with a signed contract and cheque for a 10% deposit and said, 'We need this exchanged by 5pm Thursday or we're moving on," Harvey says.
"The auction was the following Saturday, so the timing was really important. We actually drove past that property and the vendor happened to be outside, and there was a bit of an emotional connection formed between the seller and our buyer, which helped to seal the deal. Our offer was accepted within the deadline and I'm sure that if it had gone to auction, it would have sold for at least $2.4m."
Step 5: Negotiate one last time
Just because your offer has been accepted and you've exchanged contracts, that doesn't mean your negotiation is over.
You should always aim for a second bite of the cherry by negotiating further, based on the results of a building and pest inspection, advises Hunter.
"We always put lots of terms into our contracts that are very buyer-friendly and allow us to negotiate based on the building and pest inspection," he explains.
"We do it on over 95% of contracts, and it doesn't always mean you get a positive outcome, but it's always worth a shot. We'll put together a list of anywhere between four and eight items that we believe need rectifying prior to settlement, and if we can get the vendor to fix the top two to four items, then we're happy. Sometimes we get the whole lot done, and very rarely do we get zero."
On one particular deal, this strategy paid off handsomely, as the building and pest report revealed that a fence was falling over between the neighbouring property and the retaining wall.
"We actually negotiated a $10,000 reduction in the purchase price to get the retaining wall fixed, and when we got the work done, it was only
$2,200. We bought it for $270,000, so that was a significant discount," Hunter says.
The reason this strategy works so well is that the vendor has emotionally and mentally moved on, he adds, so as the buyer you have the upper hand.
"When you've got a motivated vendor, and you come back to them two weeks after you've exchanged contracts with a list of requirements, they're going to be more likely to work with you than walk away," he says.
How do you deal with a multiple-offer situation?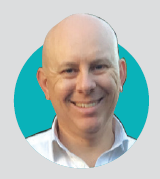 Paul Wilson, We Find Houses
"It depends on the value of the opportunity. I recall one time, with a multiple-offer situation where there was an opportunity to manufacture growth through development, we actually went in above the asking price because the cost of losing the deal was greater than the cost of buying above asking. This allows you to get in there to close the deal, but you've still got exit strategies because of the terms in the contract, and you can have another go at reducing the purchase price after the building and pest inspection. After all, you know what the vendor is willing to accept!"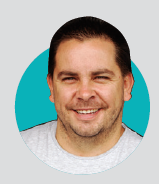 Todd Hunter, wHeregroup
"The number one thing that stops me from buying is competition. If I have competition in any property, I pull out and let them negotiate with the other party. I also only buy at auction if I am the only registered bidder. We never compete, ever, because I want to go toe-to-toe with the vendor, not a bunch of other potential buyers."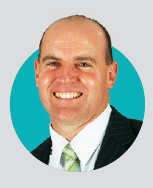 Rich Harvey, PropertyBuyer.com.au
"In this type of situation, we aim to keep in very close contact with the agent. We like to be the last one who puts in an offer, and we have a particular strategy that allows us to get the last offer in. Multiple offers are like a silent auction; they can be very difficult as it's not transparent and I don't really like it at all."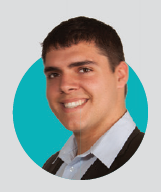 Zoran Solano, Hot Property Specialists
"Putting in a best and final offer and crossing your fingers isn't the most comforting way to do it. My suggestion is to run your own race; once you have located the property and evaluated it against your property goals and against other properties in the area, establish how much you're willing to off er and stick to that. Remember, it's not always about price; there needs to be a win-win, so try and discover the motivations of the seller and work in with them."
Case study: Buyer's agent's skills snag 50% plus rental increase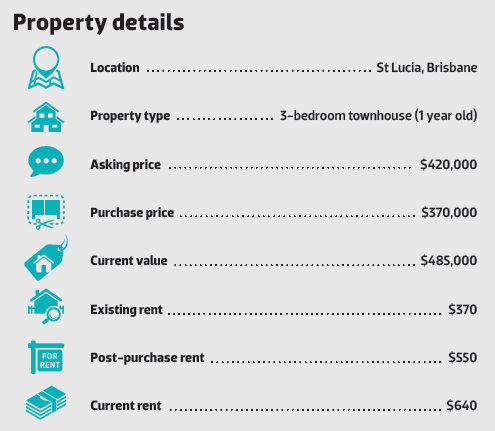 More often than not, gaining the upper hand in any property market comes down to due diligence – something that Philippe Brach, director of Multifocus Properties & Finance, knows only too well.
As a property professional who sources real estate opportunities from all over Australia, Brach makes it his business to get to know a prospective property investment market inside out, prior to investing there himself or recommending it to clients.
Such was the case a few years ago when he identified St Lucia in Brisbane as a potential destination where he could shop for a student rental property to add to his personal portfolio.
"I was looking for a property near the University of Queensland in Brisbane. I had no exposure to the student market and wanted my next property to be in this area, but I certainly wasn't looking for purpose-built 'student accommodation', as they are difficult to finance and hard to sell, as the market is too restricted," Brach explains.
"I identified a three-bedroom townhouse for sale in St Lucia, in a small gated compound of eight units. The townhouse was only one year old and the tenant was a local coffee shop owner."
The property, which was achieving a rental return of $370 per week, was listed for $420,000.
"The seller had personal issues and needed to sell. I told him that with a rent of $370 rent per week, I wouldn't be prepared to pay more than $370,000, which would give me a reasonable but not excessive yield of 5.2%," Brach says.
He eventually agreed and wanted me to take over the lease too, which I accepted. Soon after I acquired the property, the tenant asked if he could vacate early, and I negotiated an exit with him."
At this stage, Brach's due diligence kicked in. Having thoroughly researched the market, he knew that foreign students were prepared to pay $180 per week for a room in a well-presented, modern home.
By learning about the international student market, and capitalising on the good location of St Lucia, he was able to fi nd a regular, standard property that had strong resale potential for a broad market, but which could also comfortably accommodate three people.
"The point of difference here was research. Clearly, the seller did not do his homework. I gave the unit to a managing agent who specialised in finding accommodation for foreign students, and the rent jumped to $550 a week," he says.
"The property is located in a great suburb and the market was on the rise at the time. As a result, within two years I refinanced the loan based on a valuation of $485,000 to extract equity to invest in my next property. So, not only is this property massively cash fl ow positive, but I have also had great capital growth."
Brach has specialist insurance in place, as generally required when renting by the room, but says he has never had any issue with his foreign tenants. "Even if there were issues, the managing agent and the insurance company would deal with them," he says.
"I still own this property today and consider it an amazing deal. Rent is now $640 per week and I smile every time I see my monthly rental statement."