Expert Advice with Simon Pressley 03/01/2018
The aged pension is an unsustainable financial time bomb that may bankrupt the country in the years ahead, according to research by Propertyology.
The research found that the aged pension cost the Australian people $45 billion last financial year and is growing by an alarming $36 per million every month.
Propertyology managing director Simon Pressley said 80 per cent of Australians spend 45 years working only to wind up relying on the pension to survive in retirement.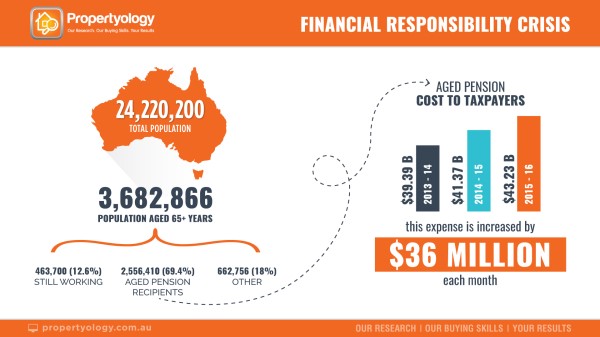 "The aged pension is a massive time bomb waiting to explode if we don't address it," he said.
"The only genuine solution is to change the psyche of all Australians and encourage households to become financially sustainable by investing for their future."
Mr Pressley said the recent rhetoric in the media and by the Federal Government suggesting that property investment is bad for society is not only wrong, but also financially irresponsible.
"If we don't encourage households to invest what is the alternative? The public won't cop the massive tax increases needed to increase the value of a pension. And, for decades, governments have failed to fund sufficient new infrastructure for our growing population."
Of the 3.68 million Australians currently over the age of 65 only about 18 per cent are financially independent, which means they don't draw on the public purse via an aged pension.
"The most sustainable way to encourage a behaviour is to use positive dialogue, education, incentives, and the occasional pat on the back. Political leaders, school teachers, parents, we all need to encourage healthy financial habits," he said.
"Society doesn't currently do that – in fact, I'd argue that we discourage investment by instigating policies that appear to penalise households that are investing for their future."
The argument that property investors receive "unfair" tax deductions are not backed up by government revenue data, Mr Pressley said.
According to the Australian Bureau of Statistics, state and local government coffers benefited from about $50 billion in property taxes in the 15/16 financial year – an increase of nine per cent on the year before.
"Property investors fork out billions of dollars in property taxes every year, which far outweigh any negative gearing deductions, which is actually a loss that any investor can claim," Mr Pressley said.
"The $8 billion revenue raised from property investor stamp duties in one year is enough to fund Sydney's second airport, a nationally-significant infrastructure project which was first proposed in the 1960's."
"The $7 billion that investors paid last year on land tax could fund Brisbane's Cross River Rail project plus 4 or 5 major hospitals for regional cities."
With an annual cost of $45 billion and ballooning by the month, Mr Pressley said the aged pension was preventing spending on urgent infrastructure.
"The cost of the aged pension to taxpayers is significantly diminishing Australia's ability to fund critical infrastructure such as airports, train lines, tunnels, ports and hospitals," he said.
"The aged pension is an inverted pyramid that is already suppressing the growth and development of our country.
"There's a huge risk of it toppling over and wiping out any chance of prosperity for future generations."
......................................................................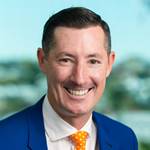 Simon Pressley is Head of Property Market Research and Managing Director at Propertyology.
Propertyology is a national property market researcher and buyer's agency, helping everyday people to invest in strategically-chosen locations all over Australia. The multi-award-winning firm's success includes being a finalist in the 2017 Telstra Business Awards and 2018 winner of Buyer's Agency of the Year in REIQ Awards For Excellence.
Disclaimer: while due care is taken, the viewpoints expressed by contributors do not necessarily reflect the opinions of Your Investment Property.