The national auction market has continued its steady build up as the year unfolds, with figures from CoreLogic RP Data revealing that just under 2,500 homes will go under the hammer this week.

According to the figures, 2,468 auctions will be held this week, a 5.2% increase on the 2,347 held last week.

Last week's national clearance rate finalised at 71.8%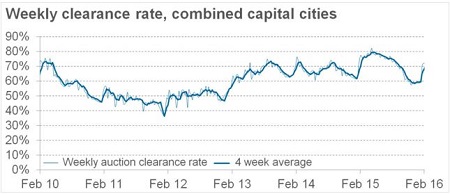 Source: CoreLogic RP Data
Volumes this week are significantly lower than they were at the corresponding time last year, when 3,238 auctions were held.
Just over half the auctions being tracked by CoreLogic this week are in Melbourne, with 1,235 scheduled for the city.
That figure is up from the 1,105 held in the Victorian capital last week, which returned a clearance rate of 74.1%.
Melbourne's Reservoir is the busiest individual suburb this week, with 22 auctions scheduled, followed by three other Melbourne suburbs; Brunswick (20), Glen Waverley and Preston (both with 19).
In Sydney, the nation's second busiest market, volumes have remained relatively steady, with 846 auctions scheduled this week after the harbour city heled 800 last week.
Last week saw Sydney post the highest clearance rate of any capital city, returning a final rate of 76.5%.
Brisbane is third in terms of auction volumes this week, despite a small slip from last week's 172 to 152 this week.
Vendors in Brisbane would likely want to see stronger competition this week, after only 53.1% of the city's auctions were successful last week.
A small rise in volumes is expected in Adelaide this week, with 115 auctions scheduled, after the city held 112 last week and returned a clearance rate of 64.6%.
Canberra has seen its volumes slide downward over the week, with the nation's capital to hold 70 auctions this week compared to 105 a week ago.
Canberra posted a final clearance rate of 61.9% last week.
Perth has the lowest auction volume of any capital city with just 41 auctions scheduled, though that figure is similar to last week when 42 were held.
Perth's clearance rate finalised at 41% last week.