In what is becoming an increasingly common occurrence, concerns have again been raised about the dangers of the current prolific construction rate of apartments in Australia.

According to analysis of apartment projects currently underway or approved for construction by CoreLogic RP Data, Australia's capital cities are expected to see a record 231,129 new apartments come on line in the next 24 months.

CoreLogic research analyst Cameron Kusher said the influx of new apartments could have a serious impact on the market given that it exceeds historical demand levels.

"Looking at the expected new unit supply, Sydney and Melbourne predictably have the greatest increases in stock over the next two years. If you compare the volume of stock expected to settle over the next 12 and 24 months to the average number of unit sales annually over the past five years, you can see a big disconnect, particularly in the four largest capital cities," Kusher said.

"The historic sales figures include sales of both existing and new units keeping in mind that new stock, usually accounts for a smaller slice of total sales than resales of existing stock. The large volume of new stock, coupled with an ever-growing supply of existing stock which resells means that historic high levels of unit settlements are due to occur over the next two years in most cities," he said.

Over the past five years Australia has averaged 108,144 unit sales, a figure that includes both new and existing stock.

The past 12 months saw 96,195 new and existing apartments sold, while the 92,102 new apartments alone are due to be settled over the next year.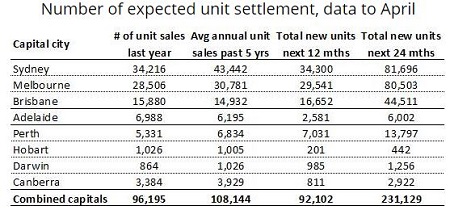 Source: CoreLogic RP Data
Kusher said the disconnect between supply and demand could pose real risks for the apartment market, especially for investors and those who have bought off the plan.
"Mortgage lenders have recently tightened their lending criteria and subsequently some people who have committed to purchasing off-the-plan units may not be able to borrow as much as they could at the time of signing the contract," he said.
"Units are much more likely to be owned by investors. Not only have lenders recently tightened mortgage criteria, they have also increased mortgage rates for investors.
"Many of the units are coming up for settlement in similar locations and will compete with existing unit stock. With so much stock coming on-line at once there is an increasing concern as to whether settlement valuations will actually meet the contract price of these units."
Moves by Australian lenders to cut off finance to foreign borrowers could also have a serious impact, given off the plan apartment purchases are popular with overseas investors due to foreign ownership laws.
According to Kusher, Brisbane and Melbourne are the two cities most at risk with it even unlikely two more years of peak demand could absorb the number of new apartments due for in the cities.
The level of risk in Sydney may be mitigated due to the location of many developments in the city.
"If we compare the capital cities, it becomes evident that most of the stock in Melbourne, Brisbane and Perth is located in inner-city (within 10km radius of the city). Taking a look at Sydney, the new unit supply is more geographically diverse," Kusher said.
"Yes, there are a lot of new units in inner city areas but there are also plenty in outer areas like Parramatta, Strathfield, Auburn and Kogarah-Rockdale. In some respects this spreads some of the risk around the city rather than other cities where new supply is much more centralised," he said.