Vacancy rates across capital cities surprisingly declined in June, with Darwin reporting the biggest drop, according to the latest market statistics from SQM Research.
The national vacancy rate during the month was down to 2.2% from 2.5 % in May.
Louis Christopher, managing director of SQM Research, said the sudden drop in vacancy rates was due to the activity in the short-term leasing segment.
The impacts of the COVID-19 outbreak on the tourism industry has led many owners of short-term rentals to list their properties for long-term tenancy.
"We believe the surprise fall in vacancy rates is due to Airbnb property owners giving up on the longer-term leasing market and moving back to short-term leasing, especially in light of the July school holiday period and the opening of some state borders," he said.
Also read: Tenants ditching inner city?
The table below shows the movement of vacancy rates in each state capital: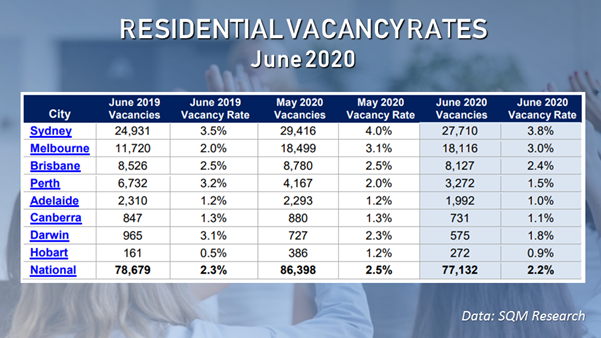 Some central business district (CBD) locations also posted declines in vacancy rates over the month, including Sydney CBD (13.8%), Melbourne CBD (8.8%), Melbourne Southbank (16.2%), Adelaide CBD (7.1%), and Perth CBD (5.3%).
However, vacancies increased in Brisbane CBD (14%) and Sydney's Palm Beach (18.7%).
In terms of asking rents, Sydney, Melbourne and Adelaide recorded declines for both houses and units over the month.
Christopher said the fall in rents in some of the capital cities indicates that the weakness in rental market remains.
"Going forward, our expectation is the Australian rental market will remain weak for the duration of 2020 or until such time as the international border reopens and we as a community have past the worst of COVID-19," he said.
The table below shows the weekly asking rents in each capital city: