Australia's property investors are likely to be better off focusing on capital growth over cash flow for the foreseeable future with continued compression of rental yields likely.

Released yesterday, CoreLogic's June Rental Review has revealed at a combined capital city level, gross rental yields currently sit at record lows of 3.2% for houses and 4.1% for units.

"A year ago, gross rental yields were recorded at 3.5% for houses and 4.4% for units across the combined capitals, indicating a fairly sharp compression of yields over the year," CoreLogic research analyst Cameron Kusher said

"It's also likely that we'll see yields compress further over the coming months. However, this will be dependent on growth in home values as well as the direction of rental rates," Kusher said

"As a result, capital growth, which has slowed from its peak, will continue to be a much more important factor for property investors than rental returns."

Across the individual capital cities, Hobart is home to the best rental yields for both houses and units at 5.2% and 5.4% respectively.

House yields are at their lowest in Melbourne at 2.8%, while Sydney and Darwin are home to the lowest unit yields at 3.9%.

For Sydney and Melbourne, house and unit yields are currently at record lows for both cities.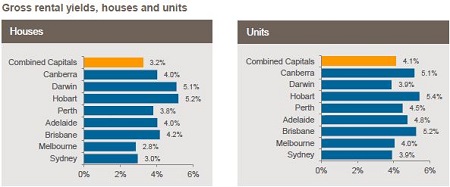 Source: CoreLogic
For those hoping to see an increase in rental yields, that is only likely to come about if capital growth slows as the June report shows rental growth continues to lag.
According to CoreLogic, combined capital city rental rates fell 0.4% in June and are 0.6% lower than compared to June 2015, an new record low rate of annual growth.
Over June, rental rates fell in four capital cities, with Darwin and Perth recording the largest monthly falls at 1.7% and 0.9% respectively.
Of the cities that saw rents increase in June, the largest was in Canberra at 1%.
Over the year to June, increases and decreases of rental rate have also been split evenly between the eight capital cities.
Darwin and Perth are again home to the largest falls, with rents 16.2% and 8.6% lower over the past 12 months in the two cities.
Smaller falls of 0.4% and 0.3% were recorded in Adelaide and Brisbane over the 12 months to June.
Hobart saw the strongest rate of rental growth over the year at 4.6%, followed by Canberra at 1.9%.
Rents in Melbourne are 1.7% higher than they were in June 2015 and 0.4% higher in Sydney.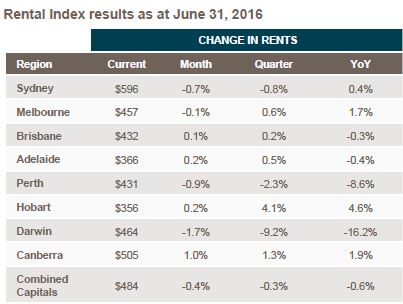 Source: CoreLogic
"It is anticipated that the weakness in the rental market will persist and where on an annual basis, we will see rents fall even further over coming months," Kusher said.
According to Kusher and CoreLogic, the factors forcing rental rates lower include: lowest wages growth on record, high levels of housing investment, historically high levels of new construction and the slowing of population growth.