New home sales in Australia may have peaked, but they are still performing at strong levels according to figures released last week by the Housing Industry Association (HIA).

According to the HIA's New Home Sales Report, which surveys Australia's largest volume builders, the number of new home sales increased over August to just below the peak level seen in April.

The August increase came on the back of a strong performance by the detached housing sector.

"Total seasonally adjusted new home sales increased by 2.3% in August this year, driven by a 3.5% rise in detached house sales. Multi-unit sales, however, declined by 1.7%," HIA economist Diwa Hopkins said.

"It is becoming increasingly apparent that total sales activity has already peaked this year, but today's update shows that sales are remaining elevated," Hopkins said.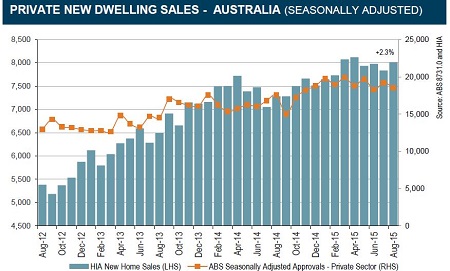 Hopkins said the figures point to sales remaining strong in the coming year, despite staying below the April peak.
"The overall developments in both HIA New Home Sales and the equivalent ABS measure, building approvals, are consistent with our outlook for actual new home building activity in 2015/16.
"We're forecasting total dwelling commencements to ease back from what we expect to have been the peak level in the financial year just passed, but still remain elevated."
Detached house sales increased by 3.5% in August 2015, but were 5.1% below the monthly peak reached back in April 2014.
For multi-units, it is May 2015 that is shaping up to represent a peak in monthly sales, with declines occurring in each of the subsequent months. Multi-unit sales in August this year were down from the May level by 8.5%.
In the month of August detached house sales increased in four out of the five the mainland states. Detached house sales increased by 10.2% South Australia, 7.0% in Queensland, 3.2% in New South Wales and 3.4% in Victoria. In Western Australia, detached house sales declined by 1.4%.