The strong growth cycle seen in Sydney and Melbourne over recent years will not be replicated in other Australian capital city markets unless there is significant economic turnaround.

Analysis from CoreLogic shows that from December 2008 to June 2016 capital city home values in Australia have increased 54.9%, rebounding from GFC-induced decline of 6.1% between March and December 2008.

While that is an impressive rate of growth over the seven and half year period, it has main been driven by conditions in Sydney and Melbourne, where prices have increased 87.9% and 71.8% respectively over the period.

The next best performer over that time frame is Canberra, where values have increased 26.9%, followed by Darwin at 20.9%.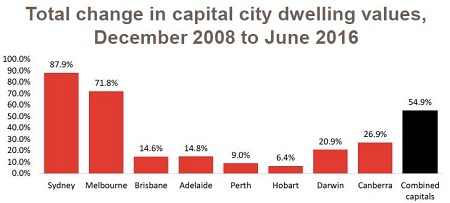 Source: CoreLogic
"Although home values have increased over the period, Sydney and Melbourne have recorded a substantially higher rate of value growth than all other capital cities," CoreLogic research head Tim Lawless said.
"Until we see an improvement in economies outside of Sydney and Melbourne, it's unlikely that an era of sustainable growth will return in these areas despite extremely low interest rates, which look set to move even lower over coming months," Lawless said.
Lawless said the analysis shows economic performance; rather fan falling interest rates are behind sustainable levels of price growth.
According to the CoreLogic figures, values rose 21.8% from December 2008 to October 2010, before the impact of the removal of the First Home Buyers Grant and interest rate rises slowed the growth rate.
Between October 2009 and November 2010 Australia's official cash interest rate rose 1.75%.
From October 2010 to May 2012, home values then declined in all capital cities, with 7.4% national decline recorded.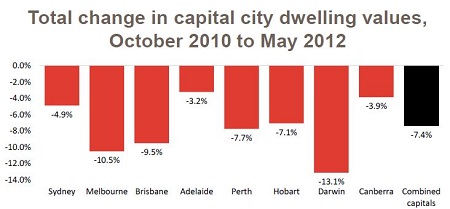 Source: CoreLogic
The growth cycle then restarted in May 2012, and since then the cash rate has declined 2%.
"The data indicates that since the financial crisis the capital city housing market could best be described as being 'extremely interest rate sensitive'. A deeper dive into the data shows that in reality, only Sydney and Melbourne have responded to the stimulus of low interest rates," Lawless said.
"The relative strength of the Sydney and Melbourne economies and the much greater employment growth has clearly driven housing values higher in these cities."
With Lawless predicting there would need to be significant economic growth for other capital cities to follow the lead of Sydney and Melbourne, he said it will be interesting to see where buyers from those two markets focus their attention in the near future.
"While affording to purchase a home in Sydney and Melbourne is becoming a stretch for many, existing home owners in these cities have experienced substantial equity increases.
"With rental growth and yields at record lows, it will be interesting to see if investors and upgraders in the two largest capital cities continue to show a thirst for housing in these cities given the growth phase has now been running for more than four years. Perhaps it's time for the buyers to look to the outer city or regional markets."