Kevin Turner catches up with Your Investment Property magazine Editor Sarah Megginson to discover what is featured inside the latest edition.
Every investor in Australia is pondering the best place to park their property dollars right now, so this month Your Investment Property magazine has done the hard yards to gather research on all the major markets.Which cities are growing, which suburbs are stalling, and how you can tap into an opportunity before it booms.
Plus a step-by-step guide to a deluxe day-spa style reno, the latest depreciation news, and they interview a developer who generated a 6-figure profit in his first deal.
In this 10 minute podcast you will get a great insight into what to expect in the May issue of Your Investment Property magazine, on shelves at your local newsagents now.
Listen to the podcast now:
With thanks to Real Estate Talk – the only place where you hear all Australasia's leading property experts.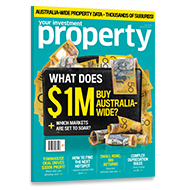 Your Investment Property magazine.
Issue #131 | June 2018.
What else in this issue?
COVER STORY: Where should you buy next? What $1M buys Australia-wide.
Renovation: How to create a swanky at-home day spa
Insight: Should you reply on property reports?
In Depth: The depreciation rules that stump us all
Feature: How to find the next property hotspot
Real Life investor interview: Sean Ewwns - 4 townhouses + $300k profit.
Tax Q&A: Six year Tax exemptions - YIP's tax experts answer your questions about CGT on your PPOR and more.
Plus so much more...
Issue #131 of Your Investment Property magazine - June 2018, is on sale in all good newsagents and Coles supermarkets 10th May - 7th June 2018.
Also available via subscription by clicking here.