Queensland property investors are waking from their slumber and making renewed moves to enter the property market, according to the state's real estate body.
With ABS housing finance figures for November showing a 16% increase in the number of investors buying in Queensland over the month, the REIQ has claimed that attractive property prices, strong demand from tenants and improving confidence in the real estate sector are encouraging more investors to enter the property market.
"After being in hibernation for most of 2011, investors are starting to return to the market, with REIQ accredited agencies also reporting a more buoyant mood since about November," said REIQ CEO Anton Kardash.
"These tentative signs of recovery, however, can only be sustained if confidence levels continue to improve. The key to this is having an interest rate regime that reflects and supports the economic reality of the majority of businesses in Australia."
While the interest rate situation may be a cause for concern, confidence in the Brisbane market will be buoyed by its steady vacancy rate figures. According to the latest REIQ Residential Rental Survey, Brisbane City's vacancy rate held firm at 2.3% in December.
The city's inner ring (0-5km from the CBD) eased slightly, with its vacancy rate rising from 1.4% to 1.9%, while the outer ring's vacancy rate dropped from 2.8% to 2.6%.
Noting that a vacancy rate of 3% is generally considered to be the balance point between supply and demand, the REIQ reported that agents are recording an average vacancy period of around one to two weeks – with up to five applicants competing for each vacant property.
Away from the capital, a continuing influx of families who are following the resources boom was cited as the key factor that saw Mackay overtake Gladstone as the resource centre with the lowest vacancy rate. According to REIQ figures, Mackay's vacancy rate dropped from 1% to 0.7% during the month of December, while Gladstone's more than doubled – increasing from 0.7% to 1.5%.
The results: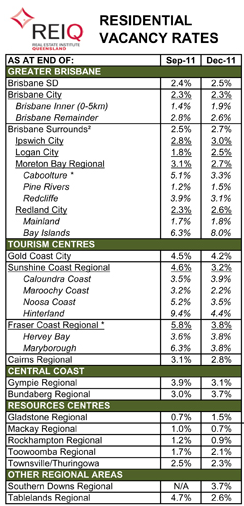 Source: REIQ Residential Rental Survey
Is Queensland the place to be? Discuss the issue with investors and experts in the where to buy now section of our property investment forum.
More stories:
Are buyers returning to the market?