Housing affordability in Australia improved in the three months to March according to analysis released yesterday by the Housing Industry Association (HIA).

The HIA's latest housing affordability report claims that during the March quarter housing affordability improved 2.7% compared to the three months to the December 205 and was 0.4% better than compared to the same period 12 months ago.

Aggregate capital city housing affordability was 4.1% more favourable during the quarter, while regional markets experienced 0.1% improvement

HIA senior economist Shane Garrett said a slight price correction had been the main cause for the affordability improvement, with there still being a number of other factors that are working against buyers.

"The national median dwelling price fell during the March 2016 quarter and this was the main factor behind the improvement in affordability during the first quarter of the year," Garrett said.

"Had it not been for the shock increase in variable mortgage interest rates late last year, the improvement in affordability would have been even better. Earnings growth has been held back by slack in the economy, and this situation has also worked against improving affordability," he said.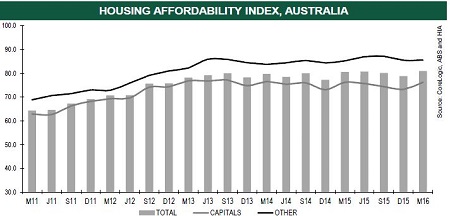 Source: HIA
Garrett said those issues make it more important for policy makers to do more to address the issue of affordability.
"At the end of the day, the most durable way of improving affordability lies in facilitating the supply of affordable new housing more effectively," he said.
"Planning delays, land supply shortages and the heavy tax burden are all making the achievement of housing affordability much more difficult."
During the March 2016 quarter, the largest improvements in affordability were in Sydney (+8.9%), Perth (+4.9%) and Darwin (+4.4%).
Affordability also saw improvement in Hobart (+2.9%) and Melbourne (+2.0%).
Affordability worsened in Brisbane (-1.2%), Adelaide (-0.2%), and Canberra (-0.3%) during the March 2016 quarter.