The slow growth of incomes, a transitioning national economy and increased housing supply are set to lead to a slowdown in capital growth across Australian real estate in 2016 according to research released yesterday.

The Australian Forecast Home Value Index, developed in partnership between CoreLogic RP Data and Moody's Analytics, predicts Australia's housing market will see a national rate of growth of 3.66% through 2016, with no individual market to see capital growth hit double figures.

Nationaly housing values increased by 9.12% over 2015.

The index predicts Melbourne will be home to the strongest rate of growth this year, with values expected to grow by 7.16%, followed by Hobart at 6.61%.

After increasing by more than 14% in 2015, Sydney's growth rate is predicted to plummet to just 2.24% this year.

The index predicts it will be at least another 12 months before a recovery is seen in Darwin and Perth, with further price falls of 1.68% and 0.05% predicted for the respective cities.

"On the outlook for the housing market nationally, we expect house price appreciation to slow in 2016. Our forecast reflects lower income growth as the Australian economy transitions away from mining-related investment, as well as the strong build-up of housing supply over the past two years," Moody's Analytics economist Alistair Chan said.

"Nevertheless, accommodative policy, robust rental growth, and a recovering labour market are expected to support valuations over the medium term," Chan said.

The Index predicts the national rate of growth will slow further in 2017, down to just 2.77%, with Melbourne to see the largest drop-off, as it capital growth slows to just 1.31%.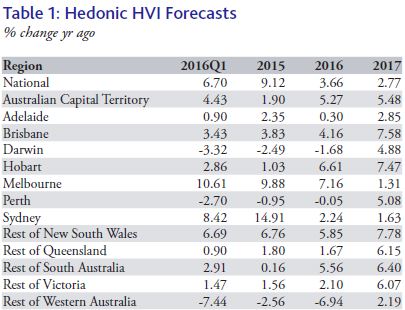 Source: Moody's Analytics/CoreLogic
While Melbourne is expected to lose its crown as the strongest performing market, speaking at the launch of the research CoreLogic research head Tim Lawless said the slowdown is a necessary occurrence for the city.
"It's a good news story in the sense we're not seeing Melbourne values crashing," Lawless said.
"The good news story is that we're seeing a controlled descent in the rate of growth after such striong growth conditions… [You] can't expect dwelling values to keep on rising by 10 or 11% per annum indefinitely in a time where household incomes aren't moving, he said.
Lawless' claim the slowdown is appropriate for Melbourne may be tied to the fact that Moody's Analytics claims the Victorian capital is the most overvalued in the country.
"As of February 2016, house prices nationwide are 5.9% overvalued relative to fundamental values. The biggest driver of this overvaluation is the housing market in Melbourne, which is more than 23% above the Moody's Analytics estimate of fundamental value. House values in Melbourne have appreciated far beyond what income and rental growth suggests is appropriate," Moody's Analytics said.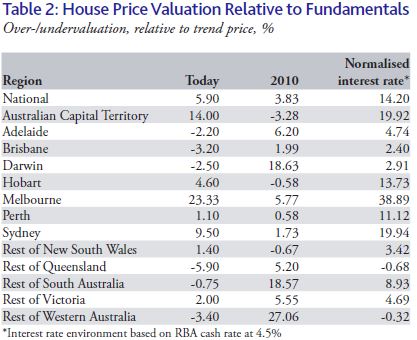 Source: Moody's Analytics/CoreLogic
"This underlines the Moody's Analytics forecast that Melbourne's housing market is set for aperiod of near-stagnation while incomes, rents, and the employment market catch up with actual housing values.
"House prices in Sydney are closer to fair value than Melbourne's, although they are still 9.5% overvalued in aggregate. This smaller estimate of overvaluation is the result of Sydney's stronger employment market."