Despite the continual decline of rental growth and yields, possible changes to negative gearing could see an increase in the popularity of cash flow positive properties among Australian real estate investors.

According to research from CoreLogic RP Data, only two Australian capital cities can currently lay claim to providing investors with better rental returns than they were a decade ago.

At the end of January, Perth's gross rental yield sat at 3.8% compared to 3.6% at the end of January 2006; while gross yields in Hobart are currently sit at 5.1% compared to 4.5% 10 years ago.

Over the 10-year period, Darwin and Melbourne have seen the biggest decreases in gross yields with falls of 1.3% and 1.2% respectively.

Yields are also down in Sydney, Canberra and Brisbane, while they have remained flat in Perth.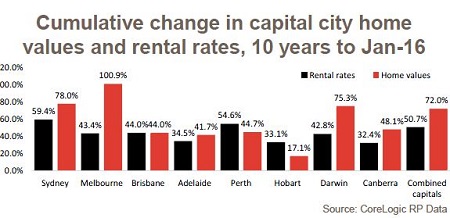 According to the research, capital city rental rates increased by 50.7% over the 10-year period, or 4.2% per annum, while home values increased by 72.0% or 5.6% per annum over the same time.
CoreLogic RP Data research analyst Cameron Kusher described current rental growth as "historically weak" and with little sign of that changing in the near future.
"With rental rates falling and yields sitting at record low levels at a time when housing construction is at its highest level on record it is reasonable to expect that rents and yields will slip further over the coming years," Kusher said.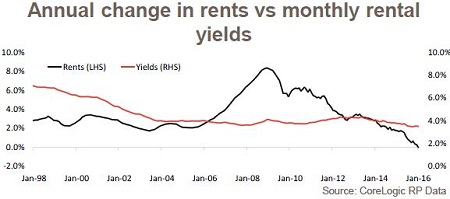 While investors may have been comfortable riding out a period of poor rental returns in preference of strong capital growth, Kusher said that attitude could soon change.
"We have recently seen the Labor opposition propose changes to negative gearing and the capital gains tax discount. Were policies such as these to be implemented, it could change the situation for investors," he said.
"Whereas over recent years their focus has clearly been on value growth, attention could begin to become more balanced where investors place a higher degree importance on the yield profile and potential for positive cash flow."
Kusher isn't the only one who predicts an uptick in the interest in properties that boast a positive cash flow.
"Changes to negative gearing have been floating around for years now. Even under the Rudd and Abbott governments there was talk of changes," Lloyd Edge, director of Aus Property Professionals, said.
"I wouldn't say that people are scared, but I definitely think people are really starting to think about how they can get a good income stream through property, whereas historically they've been really focussed on the capital growth side of things," Edge said.
Edge, who specialises in investors looking to buy or build duplexes, said the possible limitation of negative gearing to new properties could make duplexes even more popular with investors.
"Over the last few months we've seen an increase in interest from people in duplexes, given they have the ability to generate two streams of income and give you that positive cash flow, while also allowing you to experience good capital growth.
"Tax concessions like negative gearing or depreciation should be considered a bonus when it comes to property investing. Obviously if you build a new duplex you're able to enjoy two lots of depreciation, but if there are changes to negative gearing, a new building like a duplex where you have the ability to negatively gear or go after cash flow could become even more popular."