Australia still seems to have a relatively strong appetite for new homes, with the latest Australian Bureau of Statistics (ABS) figures showing an increase in approvals during March.

Released yesterday, the ABS figures show 19,371 new homes were approved in March, a 3.7% increase over the month.

The monthly increase in new home approvals was largely driven by approvals for detached homes, which increased 5.1% while multi-unit approvals climbed 2.4%.

Housing Industry Association (HIA) economist Diwa Hopkins said the figures were welcome, but signs still point to a slowdown in the residential construction sector over the coming year.

"Despite the increase during March, the broader trend in approvals is that of decline from the record levels during the middle of last year," Hopkins said.

"Today's result is consistent with our expectations for actual new home building activity over the near term. HIA expects the number of new homes commencing construction during 2016 to remain very strong at around 200,000, albeit less than 2015's record of 220,000," she said.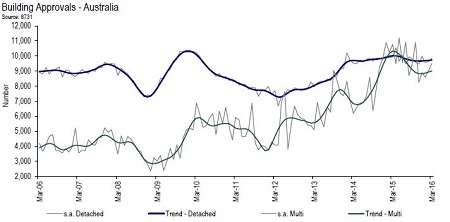 Source: HIA
During the March 2016 quarter, the number of approvals was lower than in the previous quarter, by 1.6% and was 8.8% lower than 12 months previously.
With a slowdown in the residential construction sector predicted, Hopkins said it's becoming increasingly important for policy makers to ensure the framework is in place for Australia to deliver adequate housing supply.
"It will also be important to see innovative solutions to our cities' infrastructure challenges to underpin an adequate supply of housing that meets the long term needs of Australia's growing and ageing population."
During March 2016, total seasonally adjusted new home building approvals saw the largest increase in South Australia (+8.7%) with growth also occurring in Western Australia (+7.3%), New South Wales (+6.9%), Queensland (+5.7%) and Victoria (+3.7%).
Approvals fell by 18.7% in Tasmania. In trend terms, approvals saw a 19.0% increase in the Australian Capital Territory and an 18.4% fall in the Northern Territory.