While recent figures may be pointing to a softening in the approval for new homes in Australia, it appears demand for new homes still remains at elevated levels.

According to the latest New Home Sales Report from the Housing Industry Association (HIA), seasonally adjusted new home sales increased 3.8% over the month of January, though conditions differed vastly in the performance of detached houses and multi-unit dwellings.

Sales of detached houses increased 5.8% over January, while the sale of new multi-unit dwellings decreased by 5.8%.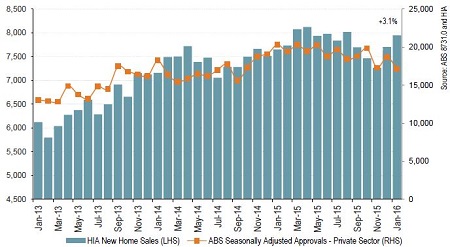 Source: HIA/ABS
HIA chief economist Harley Dale said the sales figures were a positive sign for the housing sector, but there are indications that the construction boom that gained strength over 2015 is deflating.
"Contrary to yesterday's ABS building approvals release, the HIA New Home Sales Report for January 2016 showed further strength. The overall trend evident across both leading indicators is very similar – signalling that once the current record pipeline is exhausted, new home construction activity will soften," Dr Dale said.
"This year will be another healthy one for detached house and 'multi-unit' construction, but we won't surpass the heights of 2015," he said.
"The new home building sector is crucial to Australia's economic prospects in 2016 and should continue as a mainstay of domestic economic activity. That is provided policy considerations and debates underway now don't have adverse consequences for confidence towards housing."
In the month of January 2016 detached house sales increased in each of the five mainland states: Queensland (+7.9%); Western Australia (+7.3%); Victoria (+5.5%); New South Wales (+4.2%); and South Australia (+1.3%).