While the construction of new homes in Australia may be breaking record ground, the sale of new dwellings – especially units – seems to be slowing down.

The latest Housing Industry Association (HIA) New Home Sales Report has indicated the sale of new dwellings dipped by 2.7% over November, falling to its lowest monthly level since September 2014.

The November decrease was driven by a 15.1% monthly drop in the sale of apartments.

The sale of detached houses increased 1.1% over the month.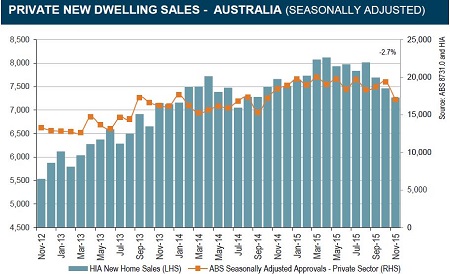 Source: HIA
Detached house sales increased by 8% in Queensland, 3.3% in Victoria, and 0.7% in New South Wales. Detached house sales fell by 1% in South Australia and by 9% in Western Australia
While the sale of detached houses saw a month-on-month increase in November, quarterly figures paint a different story.
In the three months to November, detached house sales fell by 4.1%, while the sale of new apartments declined 11.8%.
HIA chief economist Harley Dale said a range of factors contributed to the declines.
"A confluence of factors is driving a decline in leading indicators of new home construction," Dr Dale said.
"The lagged effect of slowing population growth, an up-tick in variable mortgage costs, over-reach on the part of APRA's credit controls, and an easing in property price growth in Sydney and Melbourne are all in play," he said.
The sale figures were released the day after it was revealed construction of new homes in Australia pushed into record territory over the September 2015 quarter, and it's predicted data will show similar levels of activity for the final three months of 2015.
"Yesterday's update for new dwelling commencements revealed the highest quarterly level on record in the September 2015 quarter," Dr Dale said.
"We expect that commencements held up well in the December quarter last year and that they will remain at historically healthy levels in the first half of this year. Leading indicators such as HIA's new home sales are consistent with this view."