Australia's lack-lustre pace of rental growth is unlikely to pick up anytime soon according to research released yesterday.

Analysis of August rental figures by CoreLogic RP Data has revealed that over August, the combined capital city annual rate of rental growth fell to 0.7%, a new record low.

According to the figures, weekly rents fell by 0.4% over August, with the weekly asking rent for capital city houses and units falling to $487 and $462 respectively.

CoreLogic RP Data research analyst Cameron Kusher said rents were suffering as a result of a number of factors.

"Based on year-to-date data results, rental growth conditions have softened during 2015. The 0.7% rise in rental rates over the past year is the slowest rate of rental growth on record based on data which goes back as far as December 1995," Kusher said.

"The reasons behind this lackluster result for the rental market can be attributed to the extent of the current construction boom across the capital cities and slowing population growth," he said.

"Added to this is the surge in investor participation in the housing market which is contributing to weaker rental growth by adding to the rental stock."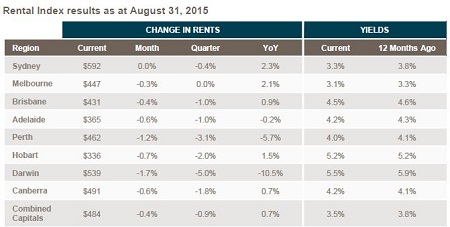 Source: CoreLogic RP Data.
Over the three months to August 2015, rental rates for houses are down 1% whilst for units they have increased by 0.2%.
According to the figures, the current annual rate of rental growth sits below the 10-year average annual rate of growth and that slow rate combined with the current levels of capital growth are combining to have a detrimental effect on rental yields.
"At the same time as rental growth is slowing the rise in home values is pushing rental yields lower. Across the combined capital cities gross rental yields sit at record lows of 3.4% for houses and 4.3% for units," Kusher said.
"The ongoing decline in yields is largely being driven by Sydney and Melbourne where rental growth is sluggish and value growth is strong. As a result both cities currently have record low rental yields."