Conditions in the Australian housing market across the first three months of 2016 are in "stark contrast" to the corresponding period in 2015 according to one of the nation's leading analysts.

Analysis by CoreLogic RP Data show house prices in Australia's capital cities increased by just 0.2% over March and 1.6% over the first quarter of the year.

Tim Lawless, research head at CoreLogic RP Data, said the results for the quarter show Australia's housing market has rebounded somewhat from its poor performance at the end of 2015; however it is still a far cry from the heady conditions seen in recent times.

"The March quarter rise in capital city dwelling values is in stark contrast to the first quarter of 2015, when values increased by 3%, which is almost double the current pace of quarterly growth," Lawless said.

"However, compared with the final quarter of 2015, when capital city dwelling values were down 1.4%, the housing market has shown a modest rebound in growth which is well below the strong capital gains recorded over the first half of 2015," he said.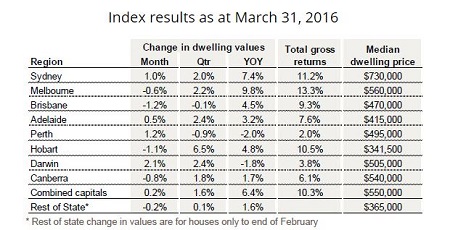 Source: CoreLogic RP Data
According to CoreLogic's figures, the annual rate of house price growth across Australian capital cities was just 6.4% in the year to March, the lowest rate of annual growth recorded at any time over the past 31 months.
Lawless said national house price growth has been on the decline since mid-2015.
"The annual pace of home value appreciation across Australia's capital cities highlights the slowing growth trend," he said
"The housing market has been losing momentum since July last year, when capital city dwelling values were increasing at the annual rate of 11.1%."
Over the 12 months to March, no capital city has seen capital growth break the double-digit barriers, with Melbourne's 9.8% the best seen in the last year.
Sydney is the next best, with capital growth recorded at 7.4% over the year, followed by Hobart's 4.8% year-on-year growth.
Hobart was also the best performer in the March quarter, with prices increasing 6.5% in the three-month period.
The worst performers in the past year are Perth and Darwin, with the two markets recording price falls of 2% and 1.8% respectively.
During the March quarter Darwin actually experienced a rise in values, with Perth and Brisbane the only two markets to see values fall in the first three months of the year.
According to the March results, most capital cities continue to see the detached housing sector outperform the unit market. Over the past twelve months, house values rose by 6.6% compared with a 4.7% increase in unit values.
"The over performance by detached housing relative to units can most likely be attributed to the more efficient release of higher density housing supply together with an ongoing shortage of strategically located vacant land and new detached housing stock," Lawless said.