The price of land rose as availability fell during the final three months of 2015 according to the latest HIA-CoreLogic RP Data Residential Land Report.

Released yesterday, the report shows the number of residential lot sales across Australia fell by 1.6% while the median lot price increased 5.2% to $234,600 during the December 2015 quarter.

Movements over the quarter were more pronounced in Australia's capital cities, with sales falling 2.3%, while the median price rose 6.6% to $274,394.

In regional markets, the median price increased 1.9% to $171,913 during the quarter.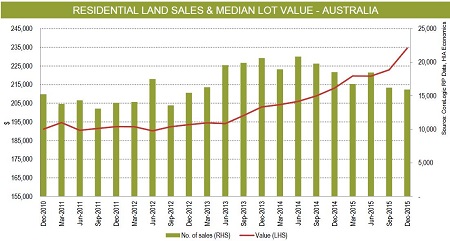 Source: HIA-CoreLogic RP Data Residential Land Report
HIA senior economist Shane Garrett said the report's findings show there is a need for a more efficient pipeline of land supply.
"Conditions in the residential land market are making it more and more difficult to deliver the new housing stock that Australia needs. Once again, we've had another quarter of dwindling land lot sales and pretty stiff price increases – evidence of insufficient supply," Garrett said.
"We need much greater emphasis on the delivery of new residential land supply involving better models for infrastructure delivery and a real sense of urgency in the planning process. Housing costs are one of the biggest components of most households' budgets and needlessly jacking land prices up through inaction on supply will make for real hardship over the long term," he said.
According to the report, 67,344 lots were sold during 2015, a 13.8% decline compared to 2014.
CoreLogic RP Data research head Tim Lawless agreed with Garrett and said policy makers need to focus on releasing land that is adequately serviced by infrastructure.
"While the fall in vacant land transactions is substantial at a national level, the drop has been more severe across the capital cities where housing demand is the highest. Land sales were down 19% compared to the same quarter a year ago across the combined capitals," Lawless said.
"If the drop in land transactions was attributable to lower demand we would expect a commensurate fall in selling price. In fact the opposite is true; land prices are rising in the context of lower sales which suggests a supply shortage is at play," he said.
"The ongoing challenge for state governments is to ensure a sufficient release of residential land that is located in desirable locations and well connected by transport infrastructure to major working centres and necessary amenities like schools, health care and retail precincts."
During the December 2015 quarter, vacant residential land sales are estimated to have declined in Sydney (-22.3%), Brisbane (-20.1%) and Perth (-7.2%).
Elsewhere, the level of sales increased during the quarter: Melbourne (+13.2%); Adelaide (+27.5%); and Hobart (+7.2%)
The highest median lot price was in Sydney at $408,500 during the December 2015 quarter.
Perth was in a distant second place at $280,000, followed by Melbourne at $245,000 in third and Brisbane at $235,000 just behind in fourth place.
Adelaide at $196,000 was fifth and with Hobart comfortably remained the least expensive residential land market at $135,000.
In the 12 months to December 2015, price growth was strongest in Sydney (+21.8%), followed by Hobart (+17.4%) and Melbourne (+16.7%).
Price growth was significantly more measured in l other cities, including Brisbane (+7.2%) and Perth (+5.1%) over the same period.
Adelaide experienced the weakest growth in land prices (+2.1%) over the 12 months.