The price of residential land in Melbourne is drawing near its previous peak as the pipeline of developable land begins to dry up.

The latest figures from the National Land Survey Program (NLSP) March quarter survey, conducted by research groups Charter Keck Cramer and Research4, has revealed that the median price for a block of residential land in Melbourne increased 2.8% over the March quarter to $218,000.

Over the 12 months to March lot prices in Melbourne have increased 3.8% and now sit just $2,000 below the previous price peak of $220,000 recorded in September 2011.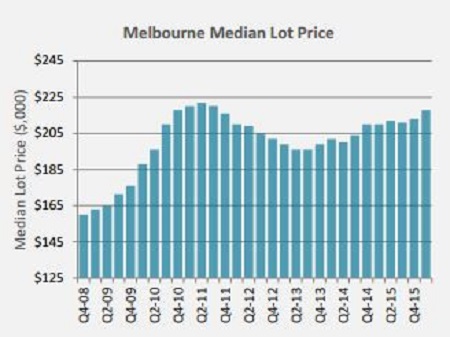 Source: National Land Survey Program
Melbourne's median lot price is currently $245,000 lower than that of Sydney, though Danni Addison, Victorian chief executive of the Urban Development Institute of Australia, said that level of affordability is unlikely to continue.
"At an average price of $218,000, Melbourne's greenfield land market has been a shining beacon for housing affordability. This has been largely due to the ongoing release of developable land in our growth suburbs and the relatively low development costs imposed on land," Addison said.
"However, as demand continues to remain strong, trading stock levels stay at low levels and the availability of low cost developable land reduces, prices are expected to increase," she said.
The NSLP figures show Melbourne has averaged 5,500 lot releases for each of the past three quarters, a figure Robert Papaleo of CKC and Colin Keane of Research4 said is unlikely to increase.
"Over the past three quarters new lot releases have held at just under 5,500 lots for the quarter. It is clear that the Melbourne market has hit a capacity ceiling i.e. cannot produce any more lots than 5,500 per quarter," Papaleo and Keane said.
According the NSLP, the March quarter saw an average of 1,850 lots sold per month which is the second highest quarterly sale rate since the NSLP began in 2005.
The Melbourne market has posted four consecutive quarters of record or near record sale volumes, equating to 21,000 lot sales for the year.
While Addison said the affordability of land will be impacted by dwindling supply, she also said current government levies and taxes are inflating prices.
"To steer Melbourne's greenfield market away from becoming unaffordable, the Government must continue with a strong program of Precinct Structure Plan approvals and focus on ensuring there is a long term pipeline of developable land," she said.
"There is no doubt that unless we address the increasing costs imposed on development as an urgent priority, housing prices will only increase. Development costs such as infrastructure contributions and other taxes on property cannot continue to increase without impacting on price."