The renovation industry in Australia is showing some signs of recovery; however it is still in a fragile state according to the Housing Industry Association (HIA).

Released yesterday, the HIA's latest Renovations Roundup report shows that 2015 was the second consecutive year where renovation activity has increased after significant falls in 2012 and 2013.

According to the report, Australia's renovation industry was worth $30.3 billion in 2015, up from the $29.1 billion it was valued at in 2014.

The consecutive increase in 2014 and 2015 followed the industry hitting a peak of $34 billion in 2011 before falling to $30.4 billion in 2012 and $28.7 billion in 2013.

"Total renovations activity grew for a second consecutive year in 2015, rising by 4.4 per cent. However, the recovery remains quite fragile and there is considerable geographic variation to activity," HIA senior economist Shane Garrett said.

"Several markets are benefitting from the improving labour market along with stronger dwelling price growth. In other places, weak earnings growth, relatively low turnover of established houses and tighter credit conditions are holding activity back," Garrett said.

According to the HIA, the slow pace of recovery for the industry is expected to continue in coming years.

Growth of 0.7% to an industry-wide value of $30.5 billion is expected for 2016, followed by a 1.7% increase to $31.1 billion in 2017.

2018 is expected to see the industry grow 2.8% to $32 billion, while 2019 will see it grow another 3.2% to $33 billion.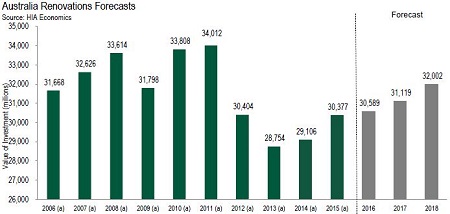 Source: HIA
According to Garrett, repairs and maintenance are currently the most common renovation activities carried out, however it is expected that the popularity of major projects will grow in coming years.
"A significant 24% of renovation jobs fall within the value range of $12,000 to $40,000. The survey also found that 13% of renovation jobs fell in the range of $200,000 to $400,000," he said.
"This reflects demand for comprehensive renovation work which covers a large part of the footprint of an existing house and is an area of the renovations market that should gather momentum in coming years."