The condition of Australia's rental market has become the topic of debate, with differing viewpoints emerging from two of the country's biggest real estate data providers.

Domain's latest Rental Report, which covers the March quarter, paints a relatively positive picture of the rental market, with a continued rise in rents predicted.

"Despite the recent influx of home building, we can expect to see upward pressure on both house and unit rents in most capital cities continuing in the foreseeable future," Domain Group senior economist Andrew Wilson said.

But analysis by CoreLogic RP Data isn't quite as upbeat, with its March Rental Review up a number of concerns for the market.

According to CoreLogic's findings, rents across the combined capital cities increased by just 0.2% during the month and fell by 0.2% in the 12 months to March, the first annual fall in rents on record.

"We have been tracking the annual change in capital city rents since 1996 and this is the first time we have seen rental rates falling," CoreLogic RP Data research analyst Cameron Kusher said.

"The extra accommodation supply, as a result of the current building boom, along with the recent record high levels of investment purchasing is adding substantial new dwelling supply to the rental market at a time when the rate of population growth is slowing from quarter to quarter. Furthermore, wages are increasing at their slowest annual pace," Kusher said.

According to CoreLogic, the median combined capital weekly rent in March was $489 for a house and $469 for a unit.

Those figures mean that during March house rents rose 0.1% while unit rents increased 0.4%.

The past 12 months have also shown a difference in fortune for the house and unit markets, with CoreLogic's figures showing a 0.5% fall in house rents in the year to march, while unit rents rose 1.5% over the same time.

Over the year, Melbourne recorded the biggest increase in rents at 2.0% followed by Sydney at 1.4%, Canberra at 1.2% and Hobart at 0.3%.

On the flipside, the cities to see a drop in rents included Darwin at 11.5%, Perth at 8.4 %, Adelaide at 1.0%, and Brisbane at 0.7% drop.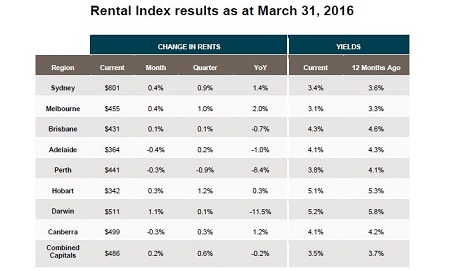 Source: CoreLogic RP Data
With the current residential construction boom still wagging its tail, Kusher said landlords shouldn't expect to be able to increase rents anytime soon.
"[The] results also highlight a swift easing in rental market conditions over the past year. We've attributed this ease to a variety of influences such as falling real wages, excess rental supply in certain areas and lower rates of population growth which have impacted on demand for rental accommodation."
"With dwelling approvals recently at record highs, construction activity set to peak over the next 24 months and many new properties still to settle, the rental demand weakness is expected to persist. In all probability, there won't be much scope for landlords to lift rental rates given current conditions have given greater negotiation opportunities to those in rental situation."