The rental markets in Australian capital cities are starting to show signs of tightening, with a decline in vacancy rates and an increase in asking rents over the month, according to the latest update from SQM Research.
The national vacancy rate hit 2.1% in January, down from the 2.2% recorded during the same month last year and the 2.5% rate in December.
Of the three biggest markets, Melbourne remained the tightest, recording the lowest vacancy rate at 2.1%. The proportion of unoccupied rental properties also declined in Brisbane and Sydney to hit 2.4% and 3.1%, respectively.
Also read: How to invest in serviced apartments
Amongst the smaller markets, Hobart clocked the lowest share of unoccupied rental homes at 0.6% while Darwin registered the highest at 3.2%.
Louis Christopher, managing director at SQM Research, said the vacancy rates in Sydney, Brisbane, Perth, and Darwin appear to have already reached their peak.
"Assuming a stable economy, these cities are likely to record gradually lower vacancy rates as 2020 progresses," Christopher said.
The chart below shows the changes in vacancy rates across capital cities: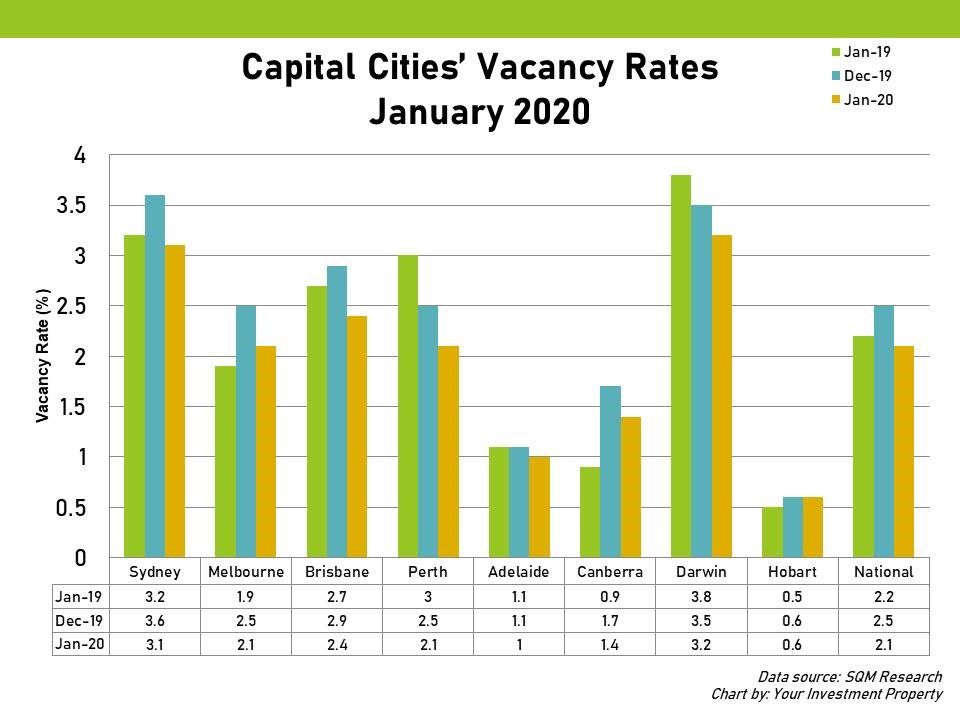 Amid the declines in vacancy rates, overall asking rents increased by 2.5% for houses and 1.1% for units to $569 and $442 per week, respectively. On a year-on-year basis, asking rents grew by 1.6% for houses and remained stable for units.
Of all capital cities, Sydney, Melbourne, and Perth witnessed gains in asking rents for both housing types. On the other hand, decreases were recorded in Darwin and Hobart.
The table below shows the asking rents for each capital city: