March was a positive month for Australia's residential construction industry, with figures released yesterday revealing a solid bump in new home sales over the month.

After a disappointing February where new homes sales fell 5.3%, the latest edition of the Housing Industry Association's (HIA) New Home Sales Report has revealed March saw an 8.9% increase in sales.

A strong monthly performance in the apartment sector was behind the result, as sales of new multi-unit dwellings surged 16.3%, while sales of new detached housing stock increased 7%.

The three months to March also saw a 2.8% increase in new home sales, however sales were 1.7% lower when compared to the March 2015 quarter.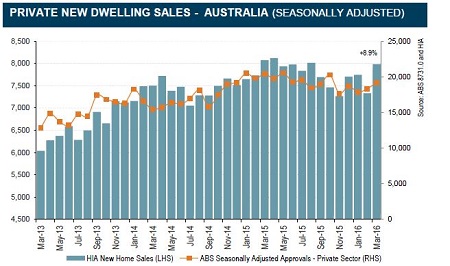 Source: HIA
HIA economist Diwa Hopkins said the March result has somewhat helped to arrest the slide of new home sales that began in 2015.
"This is another positive update for the residential construction sector. The bounce in March has moderated the downward trend that emerged in the second half of 2015. It's also consistent with the trend in ABS new home building approvals," Hopkins said.
"The current level and trajectory of new home sales and approvals provides a strong signal that new home building activity in 2016 will remain strong. Tuesday's cut to the official cash rate will also provide additional support to the residential construction sector," she said.
In the month of March, detached house sales increased in four of the five mainland states: Queensland (+13.2%), Western Australia (+9.8%), New South Wales (+8.3%) and Victoria (+2.8%).
Only in South Australia did detached house sales decline (-6.9%).
The level of detached house sales during the March 2016 quarter increased on the previous quarter in Victoria (+11.2%), WA (+5.8%), and in Queensland (+4.3%).
Sales declined over this period in NSW (-4.0%) and in SA (-5.7%).