Housing prices in Australia's two biggest real estate markets have been ranked among the world's least affordable according to a recent survey.

Sydney and Melbourne this week both received the dubious honour of being ranked inside the top 10 least affordable major metropolitan housing markets in the latest edition of the Annual Demographia International Housing Affordability Survey.

Sydney claimed the number two position on the list, with the survey claiming a median home in the city will cost buyers 12.2 times their median annual income.

Compared to the previous edition of the survey, buyers in Sydney now require an additional 2.4 times their median income to afford a median home, which is the largest annual increase recorded in the survey's 12-year history.

Sydney's increase pushed Vancouver to third place, with buyers requiring 10.8 times their median income to afford a median priced home.

Melbourne, in a three-way tie with Auckland and San Jose, claimed fourth place on the list, with a median home in the Victorian capital requiring 9.7 times the annual median income.

Hong Kong claimed top spot of on the list, with a median home in the Chinese city costing 19 times a buyer's median income.

The top 10 list features metropolitan markets from five countries and Family First Senator Bob Day claims the worsening affordability levels are having widespread negative impacts in those nations.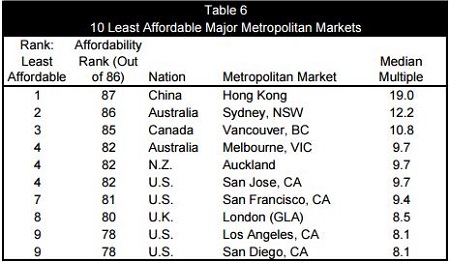 Source: Annual Demographia International Housing Affordability Survey
"The capital structure of these countries' economies have been distorted to the tune of hundreds of billions of dollars and for those on middle and low incomes the prospect of ever becoming homeowners has now all but vanished," Day said.
"Housing starts are below what they should be and so have all the jobs associated with them," he said.
For Australia, Day claims declining affordability, such as that in Sydney and Melbourne, is the result of policy ignoring supply issues.
"While influential bodies in Australia like the Productivity Commission and the Reserve Bank focused their attention on demand drivers like capital gains tax treatment, negative gearing, interest rates, readily accessible finance, first home buyers' grants and high immigration rates, few were looking at the real source of the affordability problem - land supply for new housing stock," he said.
While he believes affordability is a national problem, Day said state and local governments need to be doing more on the supply side.
"It is undeniable that demand factors played a role in stimulating the housing market and those factors were, for the most part, in the hands of national governments.
"However, the real culprit, the real source of the problem, was the refusal of local and state governments and their land management agencies to provide an adequate and affordable supply of land for new housing stock to meet demand."